December 2019 Grant Recipients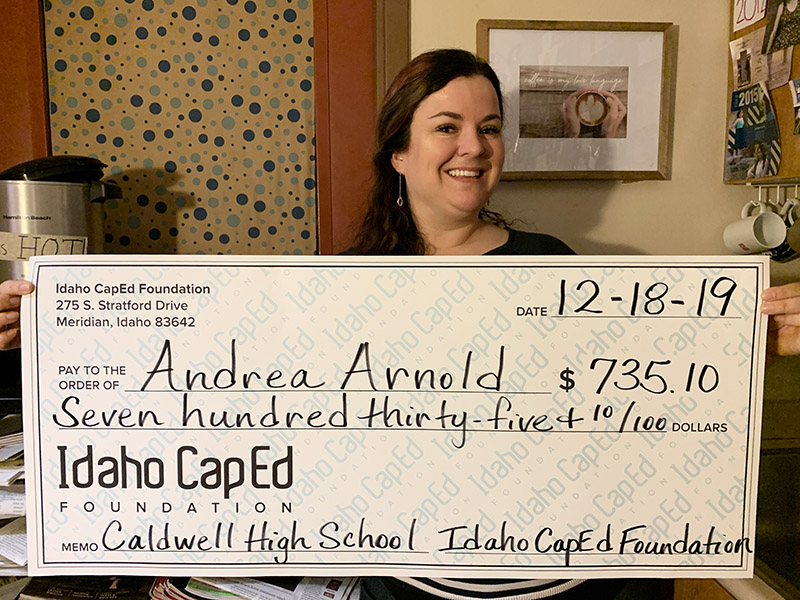 Creating a Community of Learners
Andrea Arnold - Caldwell High School, Caldwell
$735.10
I have recently created what I call "Coffee Club" in my classroom. This is simply a hot water/coffee bar in the back of my classroom that is open to any student who wants to participate. Students contribute what they can to the collection and they are able to drink hot chocolate, coffee, and tea. My students feel comfortable and therefore are much more engaged in class discussions and in their own assignments. The environment I have created allows them a safe place to express their thoughts, feelings, and questions while allowing them to be authentic conversationalists without fear of failure. I will use the grant money to help purchase items such as: coffee, hot chocolate, tea, creamer, and other "coffee" supplies for my classroom.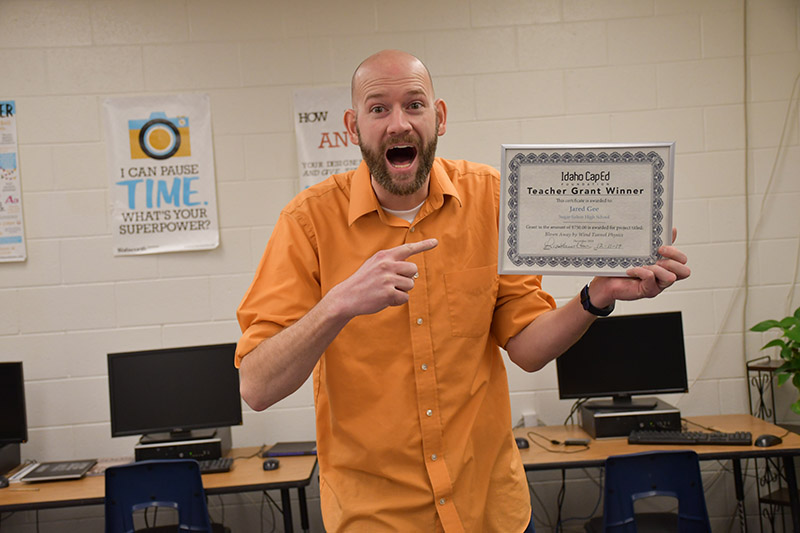 Blown Away by Wind Tunnel Physics
Jared Gee - Sugar-Salem High School, Sugar City
$750.00
Students have done many projects that include the effects of drag on objects like parachutes, airplane wings, windmills, weather balloon payloads, and more. We would like to enhance those projects by giving students the opportunity to do wind-tunnel testing on those projects before we launch the project--and additionally use the wind-tunnel with vapor inputs to enhance the instruction of Bernoulli's principle, airfoil design, and lift. Our students will create their project (either at full scale or model scale depending on the project) and then test different aspects of their design using the wind tunnel. We will be purchasing a Vernier force sensor to use inside the tunnel to give us readouts on the exact forces involved, and will run it through our existing Vernier interfaces. Students will then use their data to modify and refine their designs, and not only learn the science concepts necessary to be successful, but they will also learn the process of scientific exploration and iterative testing.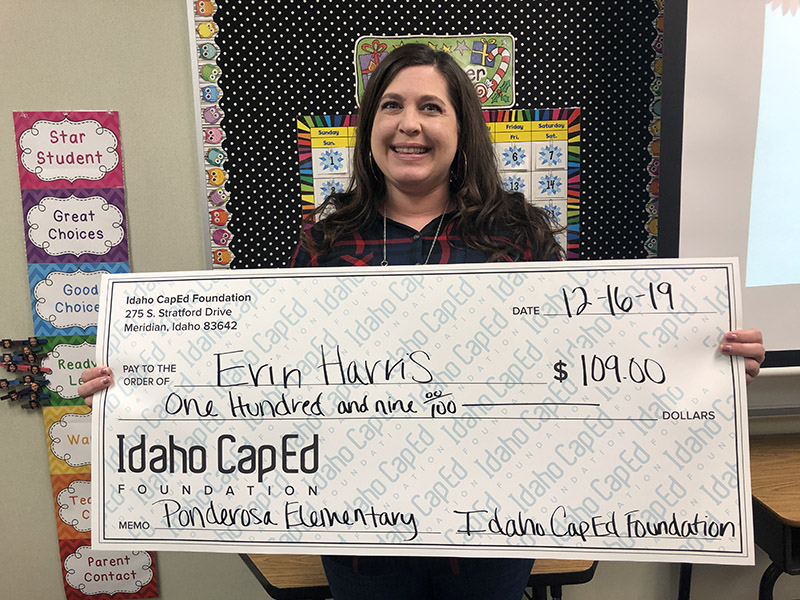 Folktales for 2nd Grade
Erin Harris - Ponderosa Elementary, Meridian
$109.00
This grant will help our second grade gain access to folktale books to enhance our reading curriculum and to help us meet our content standards. We will purchase four class sets of read alouds to help with this goal. We have been borrowing books from the public library each year and sharing them between four teachers. It will be great to have a class set for each teacher so that the students can spend more time exploring the books. The students love these books and they do a great job of connecting to our reading standards and helping students understand folktales.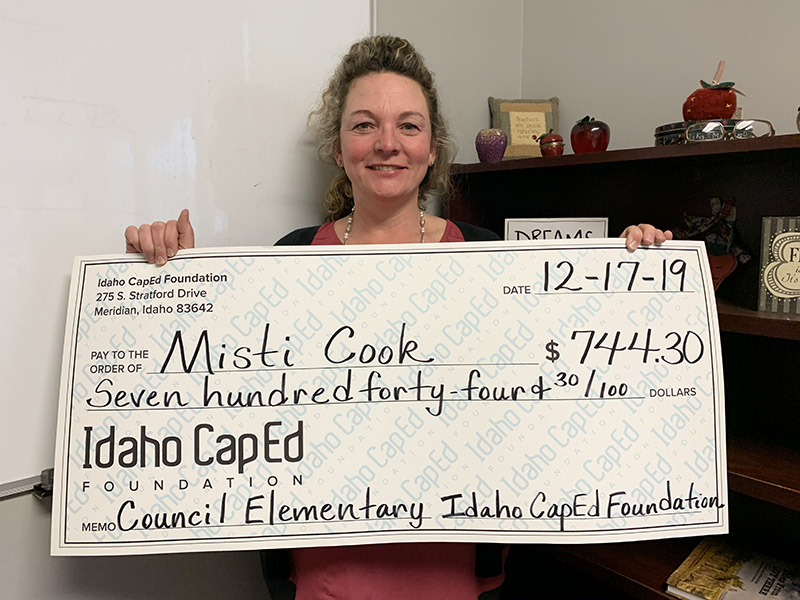 Expanding Horizons With STEM
Misti Cook - Council Elementary, Council
$744.30
In order to expose students to the innovations and opportunities of the outside world, I will purchase a classroom library focused on Science and Technology. This library will have books ranging from STEM stories about Computer Programming to books about how pencils are made. Books included have subjects about Environmental Engineering, Forensics, and Meteorology. This series is at a lower level for struggling readers, yet at a very high interest level. These books will be used in my Special Education classroom and with mixed ability groups, opening students' minds to new ideas, while improving their literacy. With exposure to the vast career and STEM opportunities available, Council students will broaden their horizons and reach for knowledge beyond the mountains.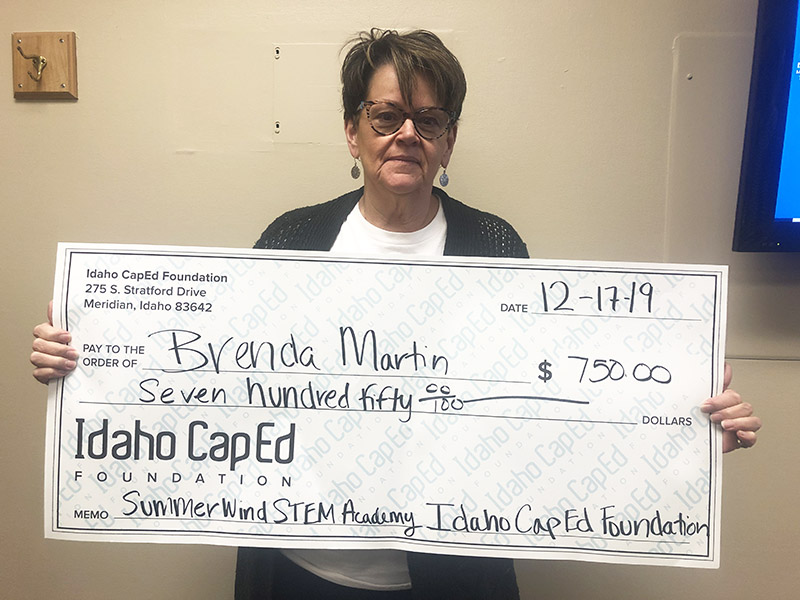 Ears: Doorway to the Brain
Brenda Martin - Summerwind STEM Academy, Boise
$750.00
Auditory brain development is the foundation for listening, language and literacy for all children. Language is learned by listening. Literacy depends on language. In order for the brain to develop auditory connections, the child's brain needs access to clear auditory information. Children spend up to 70% of their school day listening to teachers, peers, instructional media, and their own speech. We can improve children's hearing/listening by managing the environment. One way to do this is with a classroom amplification system. The FrontRow to Go system allows for amplification of verbal output by the teacher, peers, and instructional media. Benefits have also been noted in children with auditory processing difficulties and those students who are learning English as a second Language.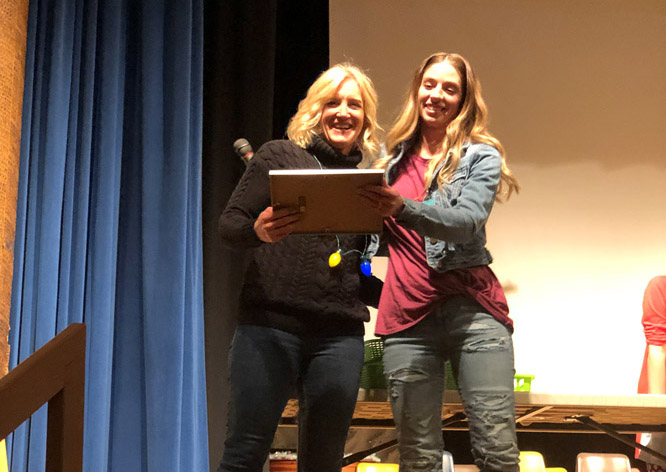 Kindergarten Indoor Science Experiment Project
Jennifer Brown - Malad Elementary School, Malad City
$720.00
This project will fund the purchase of science equipment and materials to enhance the Kindergarten science curriculum. Specifically, the grant will fund the following:
A classroom hydroponics/aquaponics grow tank where students will be able to plant seeds and watch plants grow
A 14-egg incubator where students will be able to watch their eggs hatch
A grow light to enhance the lighting in the classroom for the hydroponics tank
Lesson books with activities related to growing seasons, seeds, water, light, changes in embryo chickens in the eggs, how chicks hatch, feeding chickens, growth cycles, etc.
A table with a waterproof top to protect the experiments
Research indicates that students learn and retain what they have learned when they have hands-on experiences. Reading ABOUT science and experiments is not as likely to instill scientific principles and excitement about science as when students have the opportunity to conduct science experiments and watch their experiments evolve. Watching THEIR seeds sprout and THEIR eggs hatch will bring science to life for young students.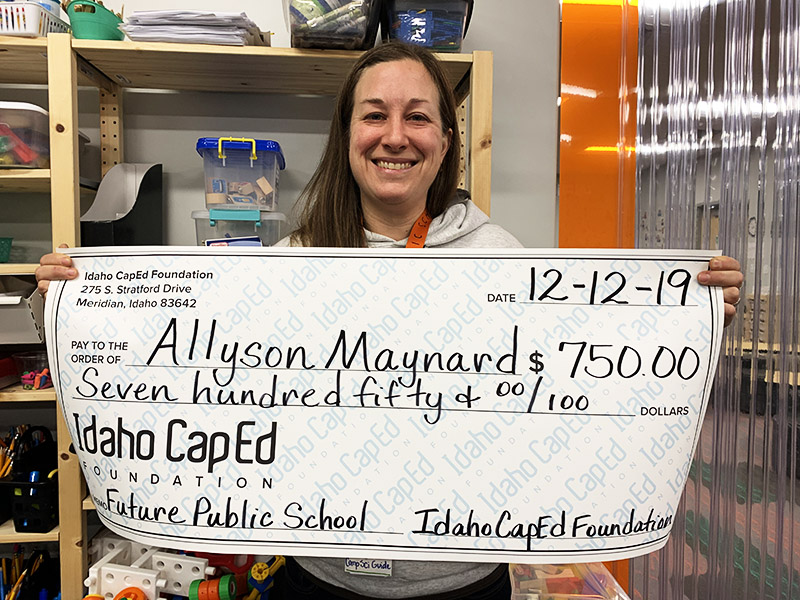 K-4 "Unplugged" Lending Library
Allyson Maynard - Future Public School, Garden City
$750.00
Computer science standards in Idaho include numerous skills that can be taught, developed and practiced in an "unplugged" setting without devices. This project will create a lending library of STEM and coding resources to be used by all K-4 classroom teachers at our school in order to better incorporate computer science into classroom content instruction. Core computer science practices within our Idaho standards include collaboration, communication, critical thinking, problem solving, creativity and innovation. These will be embedded into our lending library as students are given opportunities to classify and sort information, create and recognize patterns, design and test sequences, break larger challenges down into smaller pieces, and use teamwork to problem solve. Movement activities have been created to simulate coding and sequencing. While students at our school receive computer science weekly, this lending library will provide additional practice in a less isolated setting; as a STEM school, teachers are motivated and interested in increased support to bring computer science into all classrooms, not just the computer lab.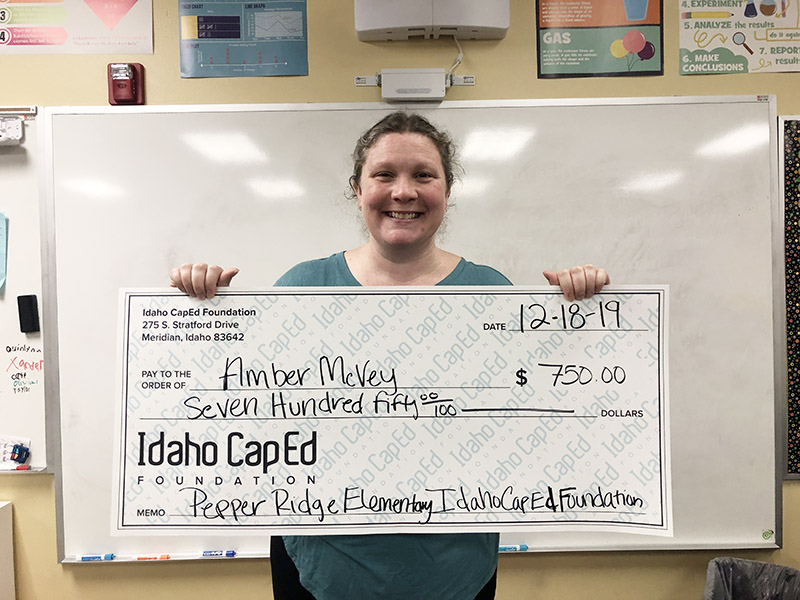 Funding Food and Clothing for Kids
Amber McVey - Pepper Ridge Elementary, Boise
$750.00
Our school is serving an ever-growing population of students who need additional support, they face challenges at home that are beyond their control. From food to help them through the day to clothing items, our students need basic necessities so that they can focus on learning. Instead of being able to focus on learning and growing, many of them are focused on their growling bellies or on their state of dress. Our project includes stocking a food pantry where students can access snacks on an as-needed basis. Our school counselor, safe school aide, and nurse will monitor this area and work together to identify students who would benefit from receiving food each day. These same individuals will also be in charge of working with families and students to make sure clothing and footwear are appropriate for our changing weather and the school environment.