December 2018 Grant Recipients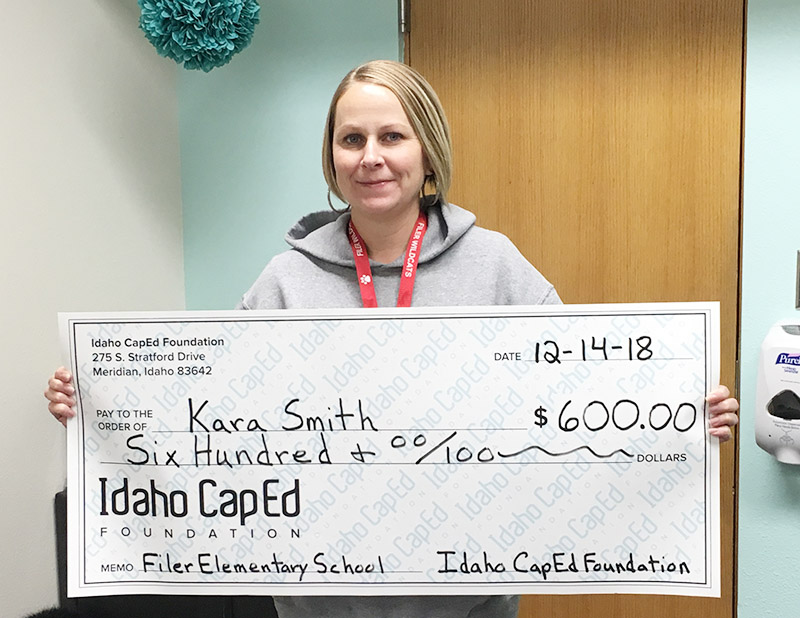 Edmark Reading Program
Kara Smith - Filer Elementary School, Filer
$600.00
The key to the success of the Edmark Reading Program is its use of a carefully sequenced, highly repetitive word recognition method combined with errorless learning. This approach eliminates incorrect responses and helps students view themselves as a reader, building their confidence and encouraging them to read. Edmark Reading is currently being utilized in our Filer Intermediate School's Special Ed program with marked success. With this grant, the Elementary School Special Ed students will have the opportunity to utilize a reading program that helps those who learn differently.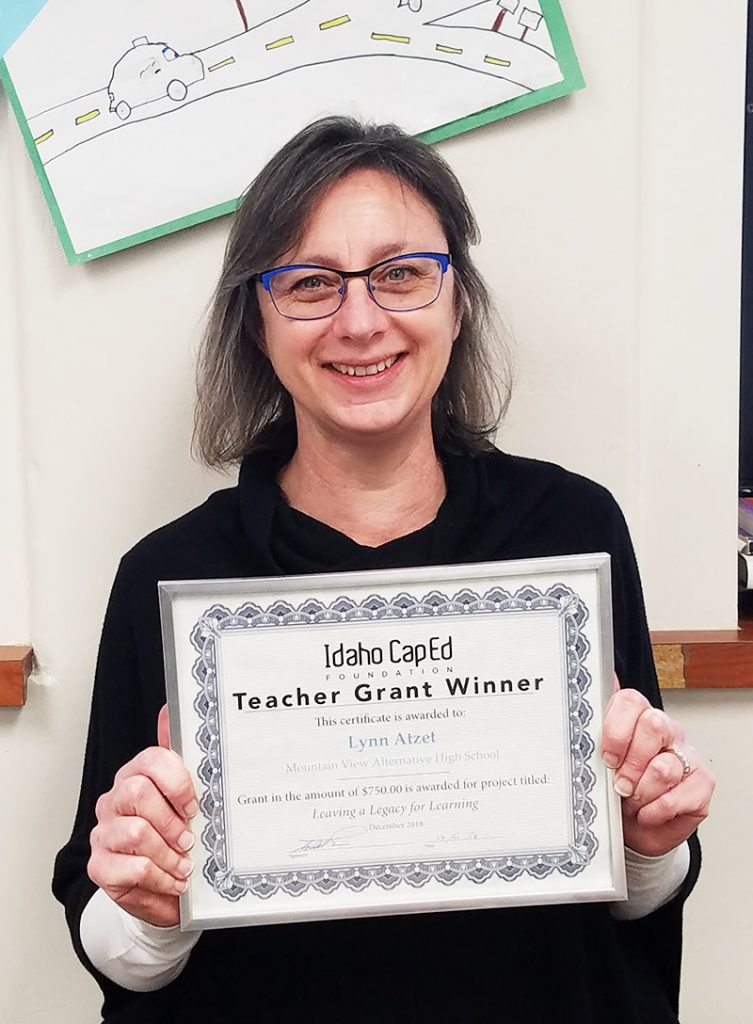 Leaving a Legacy for Learning
Lynn Atzet - Mountain View Alternative High School, Rathdrum
$750.00
My senior English class decided they wanted to raise money for Chromebooks to leave as a legacy for the school. They have been learning about technology in schools, the digital divide, and how high poverty schools have the least access to technology. They are doing their part, and I am doing mine. They did the work for Donors Choose, and we launched a request for 5 Chromebooks. They will also reach out to our district's educational foundation and make a request. Each week, we will complete a new application until we are fully funded. Each time we get one Chromebook funded, we provide a tool that will help a student learn. Our need is simple and basic, but access to the internet and web-based presentation software will be revolutionary for students who do not have access to technology even at home. With the ability to provide more individualization and teach required standards, I expect more students to make gains in reading, writing, and most importantly, a sense of control over their learning and futures.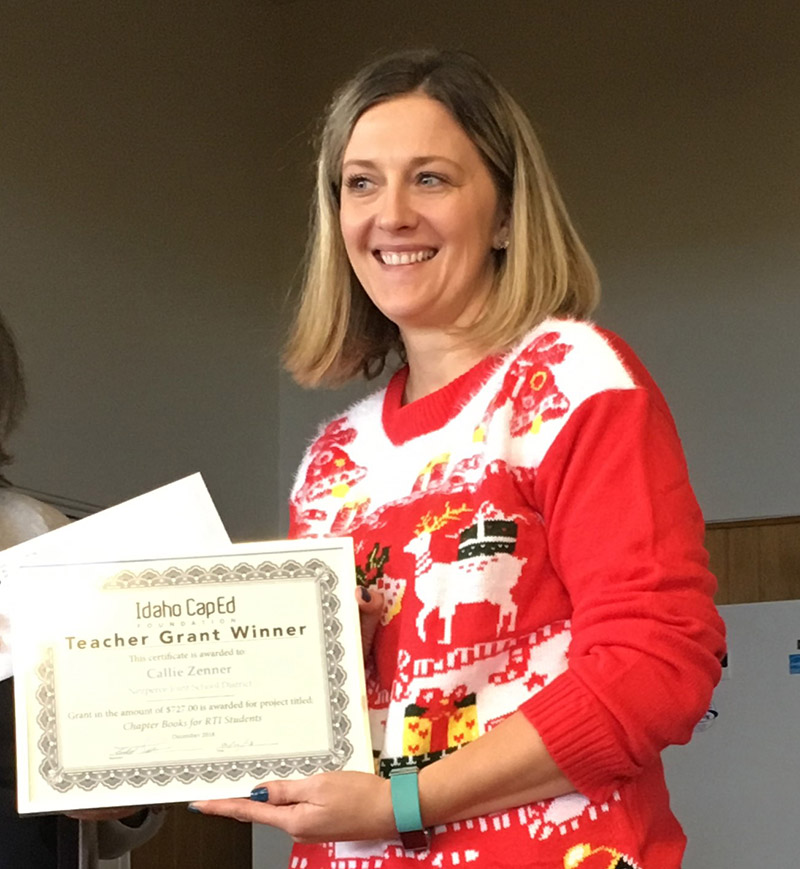 Chapter Books for RTI Students
Callie Zenner - Nezperce Joint School District, Nezperce
$727.00
Reading is an extremely essential skill for any student, but especially for 6th grade students that are preparing to enter junior high school. Students that are below grade level in their reading abilities struggle across the curriculum every day. These students are placed into intervention programs with their teachers to help bring them up to grade level. At the 6th grade level, peer pressure and the need to fit in is high. Students want to feel equal to their peers and read chapter books, but these books are often too complex for the struggling students to actually read and fully comprehend. The few chapter books that meet the needed reading level of these students often contains content that is too juvenile for these pre-teen students. Like anyone, they want to read books that interest them. The funds from this grant will purchase several high interest, low level chapter books for the 6th grade classroom to help meet the needs to these students.
Trout in the Classroom
Kelly McLeod - Anser Charter School, Garden City
$720.00
Trout in the Classroom (TIC) is a nationwide environmental education program to increase student understanding of watershed science and water quality, ecosystem health and cold-water conservation by connecting students to their local environments and watersheds. TIC is sponsored locally by the Idaho Department of Fish and Game and the local chapter of Trout Unlimited. Students will raise trout from egg to fry, and then release them into a local waterway. By caring for trout, students learn about ecosystems and food webs, stream health, chemistry and water quality, nutrient cycling, animal behavior and anatomy, and genetics. Students monitor tank conditions and predict the hatching of eggs based on their growing understanding of habitat requirements. They regularly monitor water quality, measuring important parameters including temperature, pH, ammonia, nitrates and nitrites. This supports students learning about habitat requirements, nutrient cycling and water chemistry. These hands-on, minds-on activities support many of the Idaho science standards for the middle grades, including Ecosystems, Heredity, and Biological Adaptation.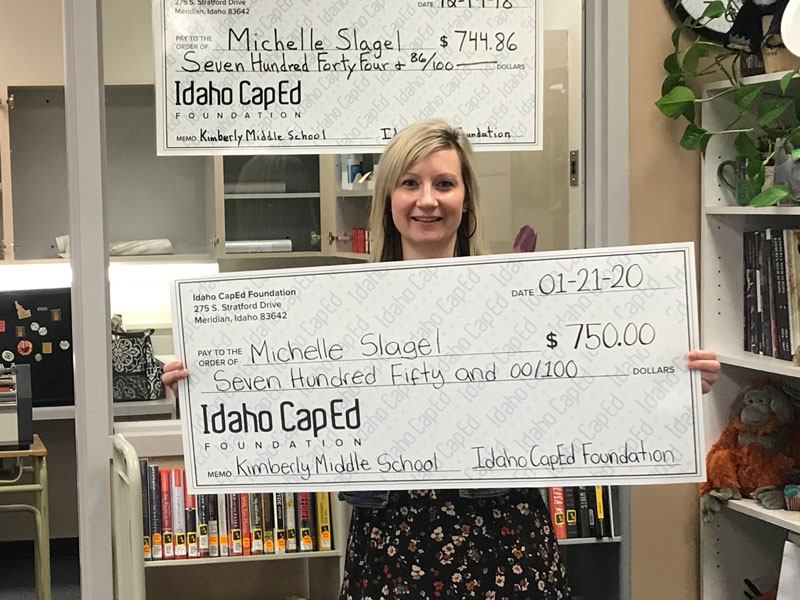 Conquering the Classics with Assistive Technology
Michelle Slagel - Kimberly Middle School, Kimberly
$744.86
As an English teacher for 13 years and a librarian for 2, I've come to notice a few important characteristics regarding books that are labeled "classic". They are often overlooked and avoided, and students tend to categorize them as too difficult or less interesting than more contemporary literature. What students don't realize is that a well-read student becomes an intellectually articulate adult. So how do teachers help students conquer these classics and come to have an appreciation for these well-known, highly-quoted authors? As a middle school librarian I have witnessed, what I believe, to be a break-through. Currently, my library owns 28 Playaways: digital mp3 audio books. Out of these 28 devices, only 3 are considered "classics". In a school with over 400 students, there is a huge need for access to more digital audio devices, especially the classics. Since the purchase of the few Playaways I do have, students have been checking out and enjoying their literature to a much deeper level. This grant will be used to increasing the amount of Playaways I have on classic books, so more and more students will check them out and start the road to becoming well-read, academically advanced learners.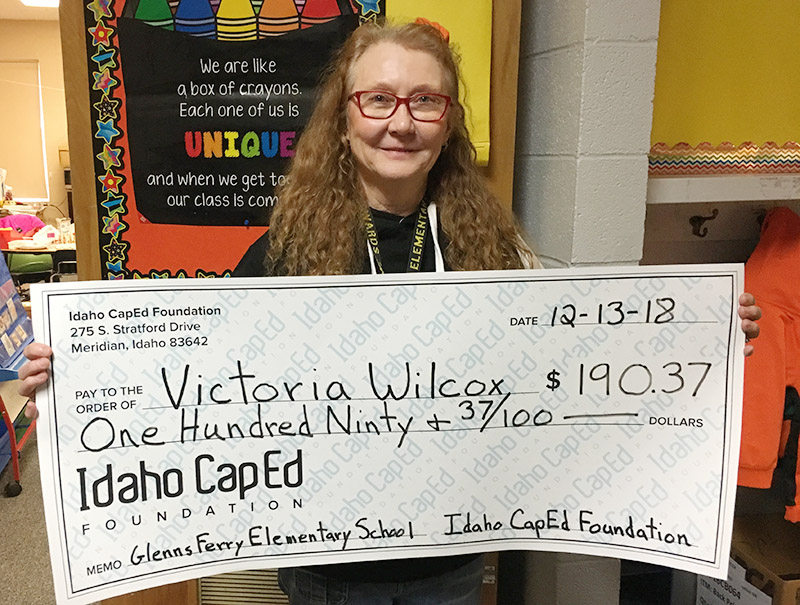 I Love to Paint!
Victoria Wilcox - Glenns Ferry Elementary School, Glenns Ferry
$190.37
My students need more experience with fine more skills. They also need more practice in communication both oral language and with written language. I recently was given a grant for a paint station. The children have been so excited and get to paint once a week. I have seen an increase in fine motor skills and my students being excited to share about their painting with others. Many students want to write about it or have me write about it on their paintings. This is so exciting and will help them meet the standards for Language and writing. I will be using this grant to obtain need more paper and paint to continue this amazing activity.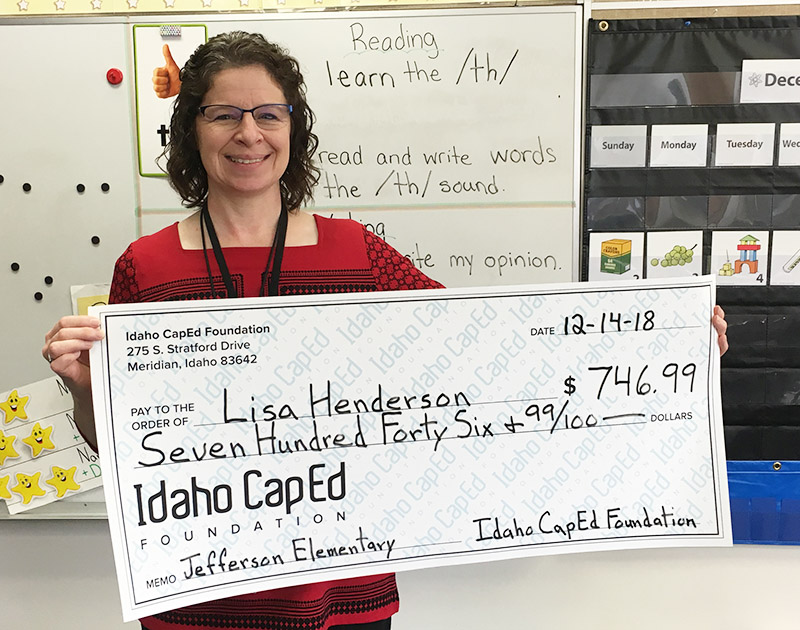 First Grade Social and Emotional Library
Lisa Henderson - Jefferson Elementary, Jerome
$746.99
School is synonymous with academics but one area that is often overlooked is the emotional well being of a child. In the last three years, my colleagues and I have noticed a growing trend of students who are struggling with social and emotional issues. These issues are affecting their academic performance and preventing them from reaching their full potential. The purpose of this grant is to purchase high quality social/emotional literature that will aid my colleagues and me in helping our students identify and adopt strategies to help them overcome the problems they face. These books will serve first graders this current year as well as first graders in the future.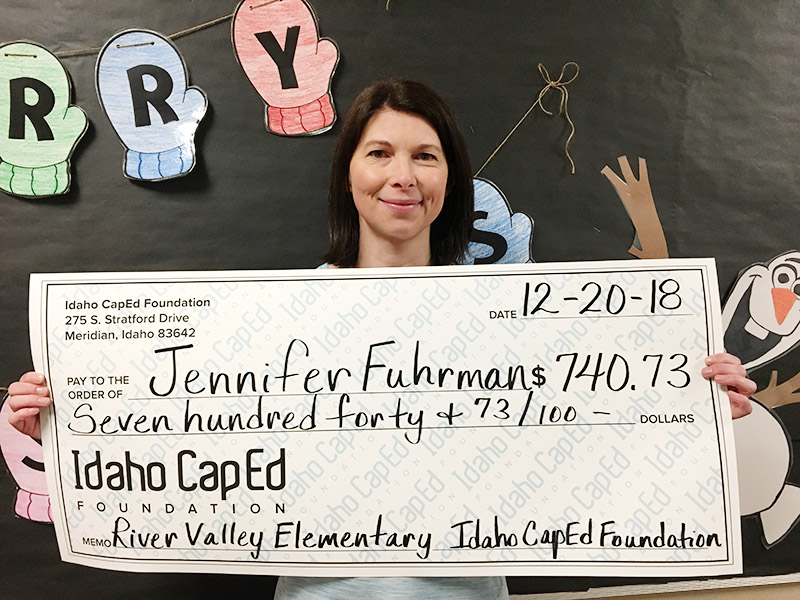 Let's Boogie in the Classroom!
Jennifer Fuhrman - River Valley Elementary, Meridian
$740.73
I will be purchasing a class set of digital writing tablets, more specifically, e-writers called Boogie Boards. My district currently uses a math curriculum that requires teachers to place a template inside a clear plastic sheet protector for each student and heavy use of dry erase markers. The dry erase markers are often large, causing young students to write fat numbers and letters, the markers run out of ink quickly, and the odor is not something I am comfortable exposing children to. These e-writers do not require any technical support. E-writers are simply a thin LCD screen that comes with a stylus to write. Writing on the these feels as natural as pencil and paper. Also, students can erase their work with a touch of a button. No more old socks, cutting felt squares, or using tissues as erasers. The screen is see-through, so a template can easily be placed underneath the tablet, saving money on copy paper and ink. I would use these tablets for practicing proper number and letter formation, for working out math problems, spelling practice, vocabulary, and as a writing organizer!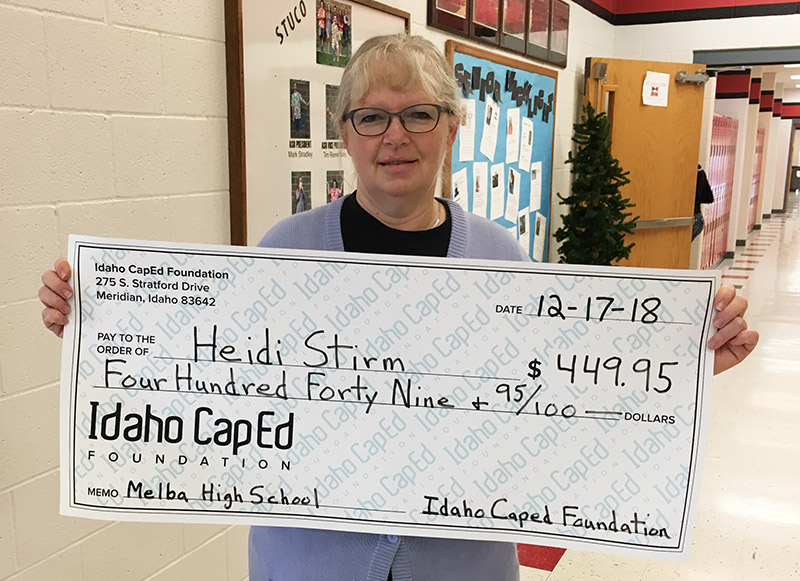 Melba Creates
Heidi Stirm - Melba High School, Melba
$449.95
I teach an Entrepreneur Experience class at Melba High School. This year our class business is a t-shirt business. We have an embroidery machine and have embroidered many things including, mug cozies, reading pillows, Christmas decorations, shirts, letterman jackets, beanies and coats. The Entrepreneur Experience class is only 1 hour a day and we have a four-day school week. In order to be competitive with the business world in the aspect of time, we need additional equipment to speed up the process. I will be using funds from the grant to purchase an additional heat press. With an additional working heat press, we could cut in half the time needed to press the shirts and sweatshirts. The expected outcome of the purchase of an additional heat press would be increased efficiency in our business in the Entrepreneur Experience class. This business will continue through next semester and in the years to come, spreading school spirit through apparel designed, and produced by the students' in the Entrepreneur Experience class.