November 2018 Grant Recipients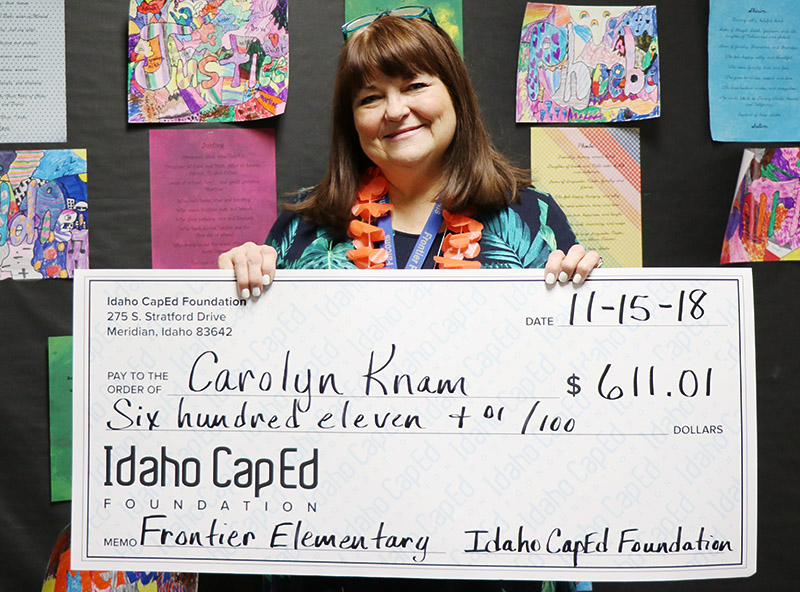 Growing Tomorrow's Readers
Carolyn Knam - Frontier Elementary School, Boise
$611.01
As students read series, they became comfortable with the syntax, the way the author writes. They become comfortable with the familiar characters in the series and they can't wait to find out what happens in the next book! In our school library we have some series of books; however, they were on the shelves in author order, as most libraries. After teaching for 10-15 minutes, our kiddos usually only have about 10 minutes to find and check books out per week. This is not enough time to search for that series in our library catalog and find it on the shelf. Some series are written by different authors, making it even more difficult in the time allotted. I started to group series together so students have easy access to the series. This grant will be used for high interest books to add or complete series that we already have.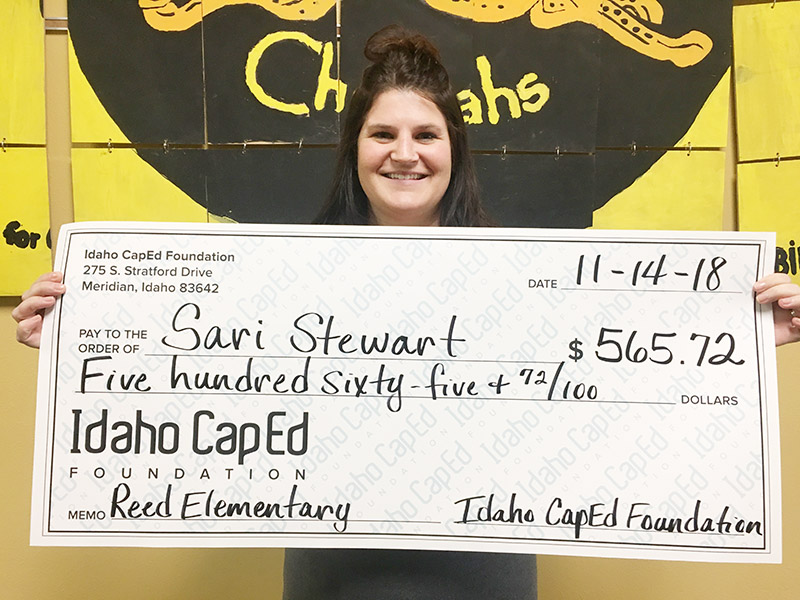 2nd Grade Headphones and Books
Sari Stewart - Reed Elementary School, Kuna
$565.72
This is my first year teaching 2nd grade after teaching 6th graders for 10 years. I came into 2nd grade with little knowledge and supplies of what I would need to have for the most successful year. Fortunately, I work with the most amazing people, that they lent me novels, books, supplies, copies, etc, so that my year could start off great. However, all those things are loans, so now I am in need of 2nd grade supplies to make my classroom library and technology area better. I will use the grant for a class set of headphones, as the earbuds that the school provided just don't seem to work for little second grader ears. This will greatly help with reading Epic online books, doing I-Station reading, and having read aloud books read to my students. Along with that, I am trying to build my own library, and are in need of age appropriate novels and picture books for my limited library.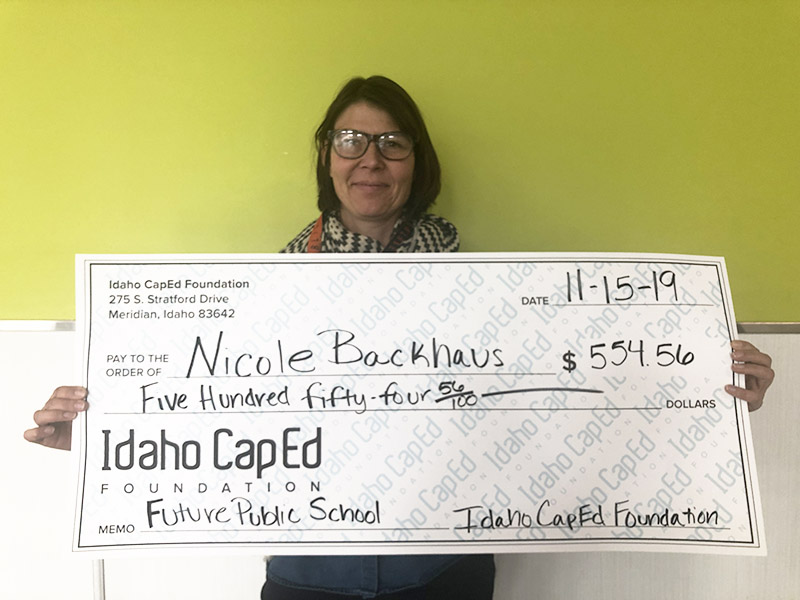 Add Excitement to the Struggle
Nicole Backhaus - Future Public School, Garden City
$160.00
My students need extra excitement when it comes to their greatest struggle: reading. Time for Kids and National Geographic Readers about cool animals are the perfect match. The books and newspaper are all of high interest to my students. The discovery kids and national geographic books will spark their interest. The books will go home with the students to help them to complete their reading log homework requirements. Mom and Dad can help, or the student reads to them. The great layout of the books make them understandable without challenging their reading skills too much.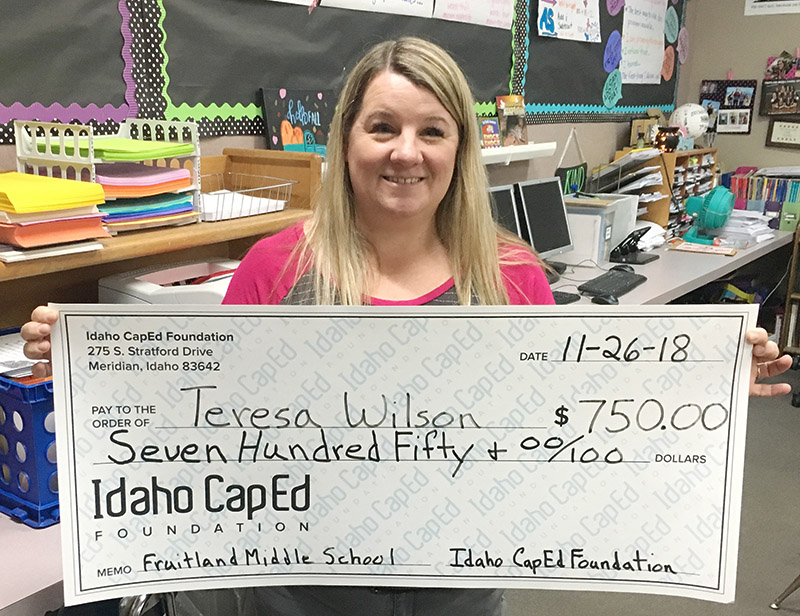 Technology in the Hands of Students
Teresa Wilson - Fruitland Middle School, Fruitland
$750.00
The increase of technology has changed the way we teach, how kids learn, and the way we communicate. Teachers must adjust teaching styles and integrate the usage of these tools. Technology is shaping classrooms around the world, and we must jump aboard to ensure that teachers are providing kids with the most innovative education. In a world of technology based learning, a classroom that has access to devices like iPads is essential. I am committed to transforming my instructional practices to maximize student growth with the use of iPads. The integration of these tools will facilitate an effective learning community for students. Utilizing iPads in the classroom will allow opportunities to differentiate instruction based on data-driven goals for instruction, authentic learning opportunities through technology, and provide for useful artifacts created by the student to demonstrate measurable growth.
Novels Enrich Our Lives
Kim Kalberg - Betty Kiefer Elementary School, Rathdrum
$750.00
Put a group of 25 twelve year-olds together for an hour everyday with quality literature and something magical happens. The messages of heroism, perseverance, and compassion seep out of the pages and into the minds, heart and souls of students. To supplement the existing ELA curriculum, I will be using this grant to purchase class sets of 7 novels that would be implemented into the ELA instruction for both 6th grade classes at my school. The novels have been selected based on their underlying themes and development of character to increase empathy and social awareness.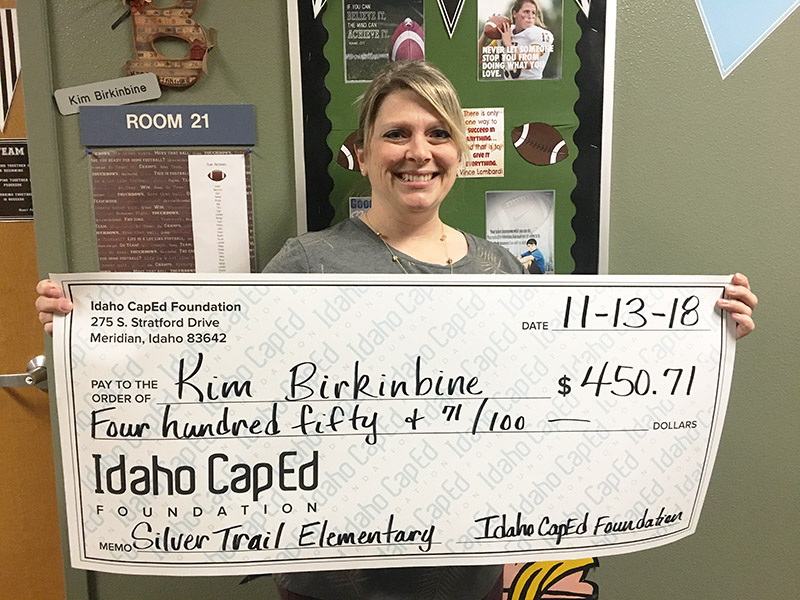 The Power of Mentor Texts
Kim Birkinbine - Silver Trail Elementary, Meridian
$450.71
A mentor text is simply a text that can be used as an example of good, strong writing. These books can be read and referred to over and over. Mentor texts provides students an opportunity to work on different reading strategies such as monitoring, summarizing, questioning, infer and predicting, questioning, and visualizing, to name just a few. These texts can provide students opportunities to notice the good things about a sentence from the author, learn to label the parts of speech, revise the author's sentence, and lastly, imitate the author's ideas, structure, and craft. Mentor texts can also be utilized in grammar and writing. If I want to create good writers, I need to show them examples of what good writing looks and sounds like. I want my students to recognize what good writers do and then incorporate those skills into their own writing. I want students to aspire to create effective pieces of writing on their own.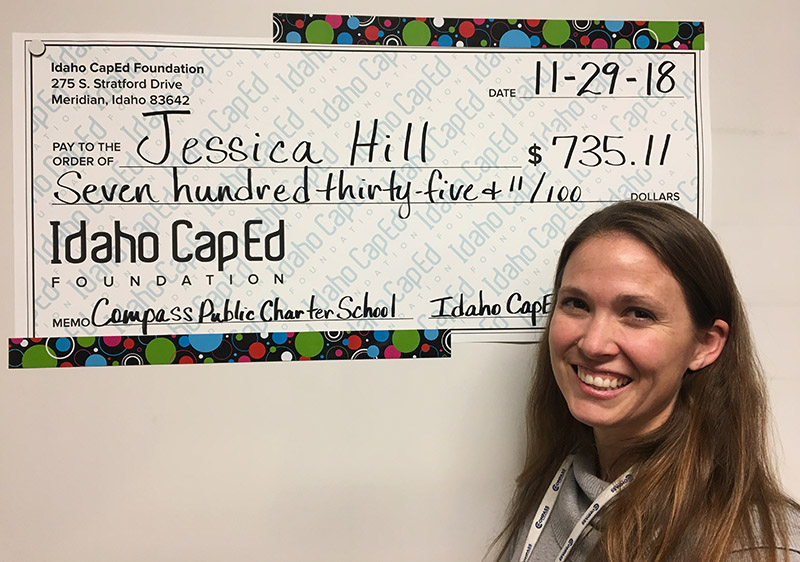 Tech and Text for Literacy
Jessica Hill - Compass Public Charter School, Meridian
$735.11
Reading is a critical skill for early education, and opens up a world of possibility for students. Utilizing physical paper-and-ink books in instructing young students is extremely effective as it connects the experience of reading with tangible books to make it authentic and memorable. Having a class set of headphones will help augment my students' reading foundation skills. One major goal for Kindergarten is to allow each student to work on their own personal growth areas. An efficient way to achieve this goal is is to use technology for independent learning continua. My class has the iPads to do this, but still need the headphones. The anticipated results are to implement students with strong reading skills and an appreciation for reading.
Document Cameras
Caitlyn Yates - The Ambrose School, Meridian
$750.00
I will be installing document cameras in two classrooms. I teach 7th and 8th grade (Pre-Algebra and Algebra 1) and have 87 students who will currently benefit from this new technology in the classroom. Additionally, two other math teachers could use these cameras, allowing over 150 students to benefit from these document cameras this year. This project would have a lasting effect, as it could be used every year for hundreds more students to come. In addition to saving time, document cameras would help students learn how to help each other find and fix mistakes. By projecting a student's work on the board, they and their peers can spend time analyzing the details of the work and identifying errors. It would also teach students to communicate their ideas better.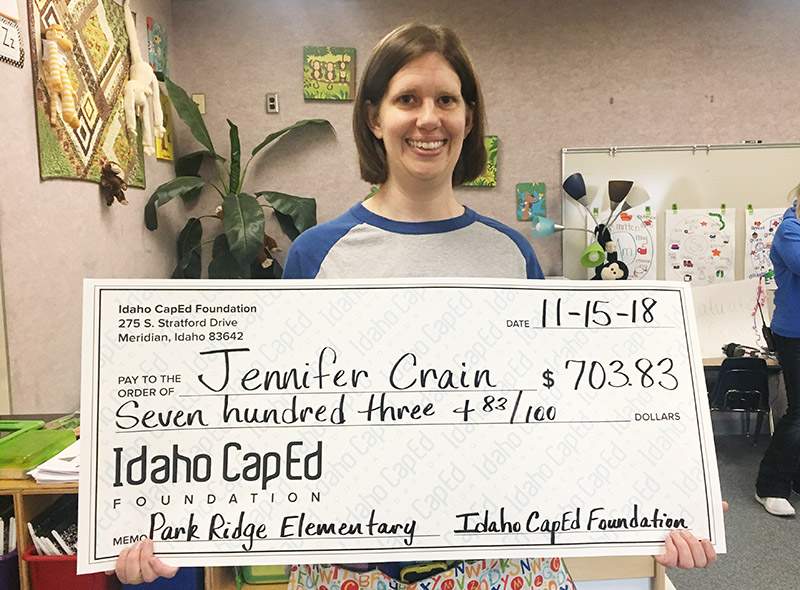 Starting Off on the Right Foot: Family Involvement for Kindergarten
Jennifer Crain - Park Ridge Elementary, Nampa
$703.83
Many of my families are unaware of the rigorous standards their son or daughter are expected to master by the end of the year. I want to provide opportunities for them to practice vital skills in fun, engaging, and targeted ways. The Frog Games and Family Engagement Packs will provide parents with easy-to-understand activities that are not only targeted, but will also allow family bonding time away from screens. The take home journals will be utilized by having each child take home our classroom Curious George and having an adventure with their family. We will read what George did with their family as a way to bring the home into the classroom. Each child will have the opportunity to make a take-home reading bag. We have every-other-day kindergarten, so the students need a safe place to keep the books I send home to read with their families.