October 2018 Grant Recipients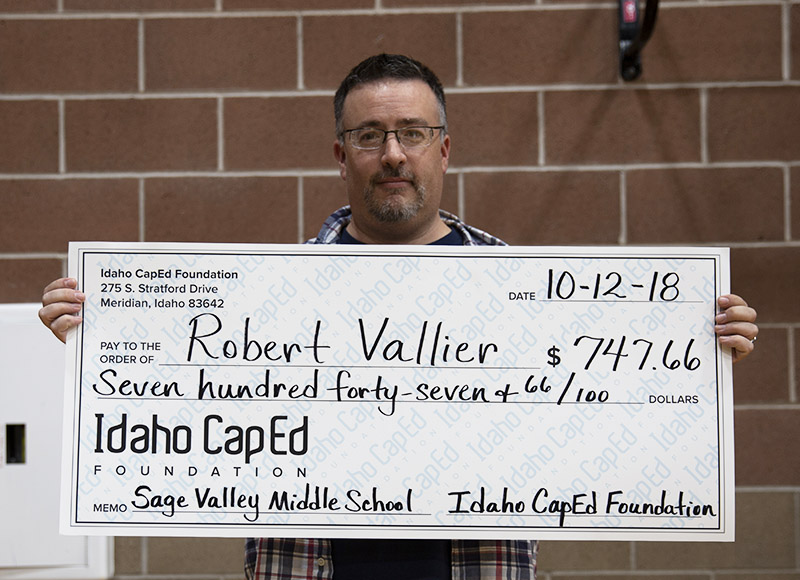 Molecular Model Kits
Robert Vallier - Sage Valley Middle School, Nampa
$747.66
The funds from this grant will be used to purchase 20 to 30 molecular model kits for my classroom. These supplies would be shared with my 6th grade science colleagues, impacting over 400 students per school year. The model kits will assist students in achieving the performance standards outlined in the Department of Education's Idaho Content Standards for Science. Molecular model kits easily and clearly demonstrate the concepts of molecular bonding, showing that particular atoms have a fixed number of bonding spaces. In addition, the ability to reuse these kits can allow individual students to more deeply explore the nature of matter, and engage in scientific inquiry to develop models of dozens of compounds, and research the properties and uses of those compounds.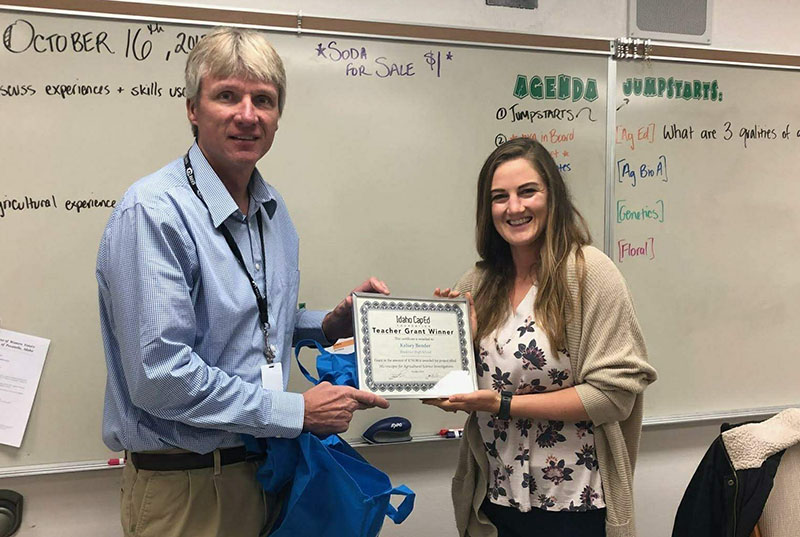 Microscopes for Agricultural Science Investigations
Kelsey Bender - Blackfoot High School, Blackfoot
$750.00
In order to help my students learn about the different plant tissues, structures of ruminant animal stomachs, differences between bacterial shapes, and gain an overall understanding and appreciation for all things "micro", I need to give them access to microscopes that work. The ones we have now were purchased by my predecessor, and they haven't been updated in decades. Technology has advanced so much, new microscopes will change our science classroom in a dramatic way. By using powerful microscopes, students gain control over their classroom discoveries. They get to see the world around them in a whole new way. These new microscopes will connect agriculture and STEM in my Ag. science classroom, and expose my students to more possibilities for their lives and work after high school.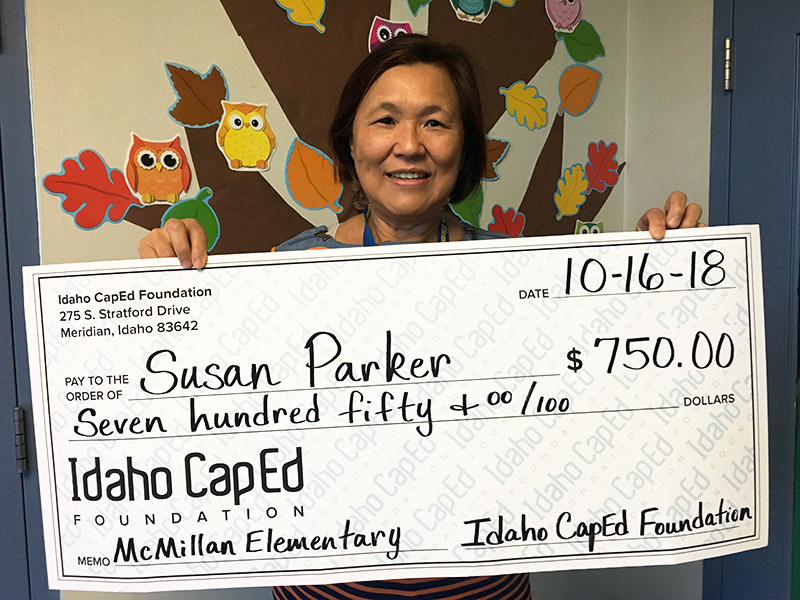 Class Reading Corner
Susan Parker - McMillan Elementary School, Boise
$750.00
My students need to have the opportunity to expand their learning experiences beyond the basic material especially resources that will help students to study in a quiet, comfortable environment that is conducive to learning and teaching. To make this happen, we will need newer class library books to replace the many books that were very old, and tattered. To make our classroom look comfortable and inviting, we need colorful throw cushions and rug to help make our reading corner fun and attractive. A reading corner provides students the experience to learn to read independently in a quiet, attractive, and conducive learning environment.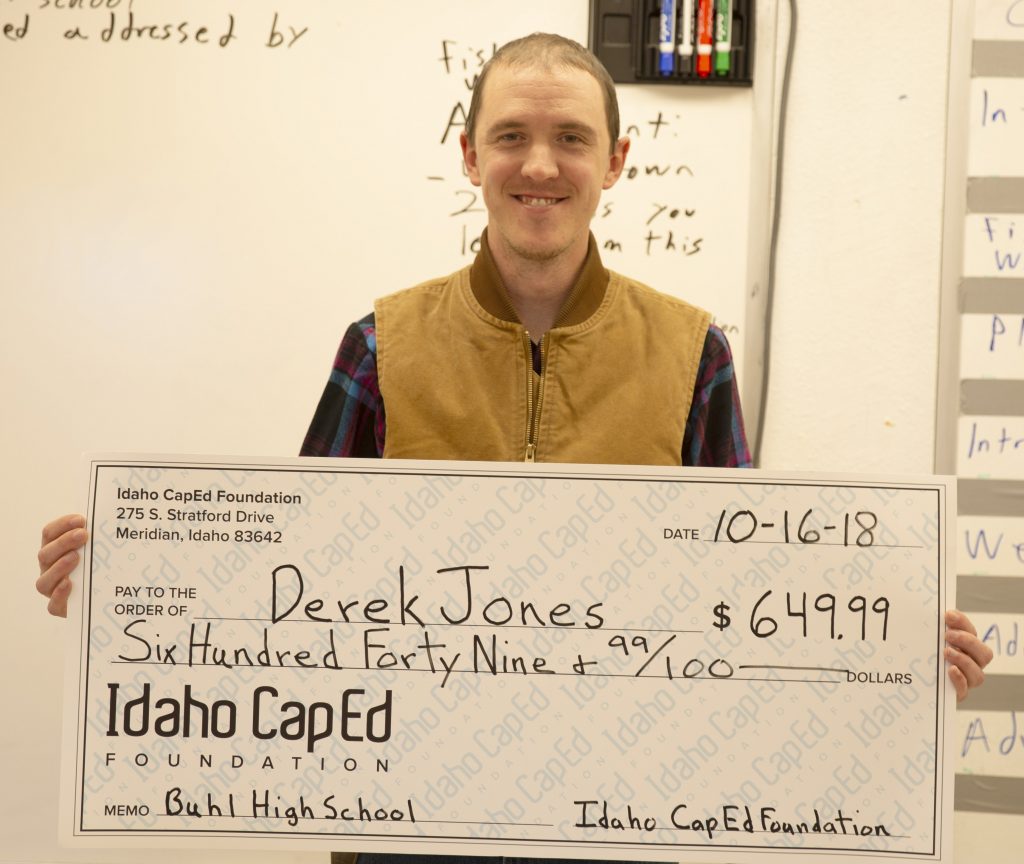 Aquaculture Lab Update
Derek Jones - Buhl High School, Buhl
$649.99
Our Agriculture department will be using these funds to help expand our aquaculture lab. Students will be able to raise fish from small fry sized fish up to marketable sized fish. The goals of this project are to construct a tank system for warm water fish such as tilapia. The grant will be used to purchase an in-line water heater that will allow for the production of warm water fish. The student outcomes of adding this system will be allowing the students the opportunity to experience a variety of aquaculture practices. The students have access to a fairly successful cold water operation that is already in our lab. The addition of the warm water system will just add to student abilities and understandings and give potential job or career skills to those students.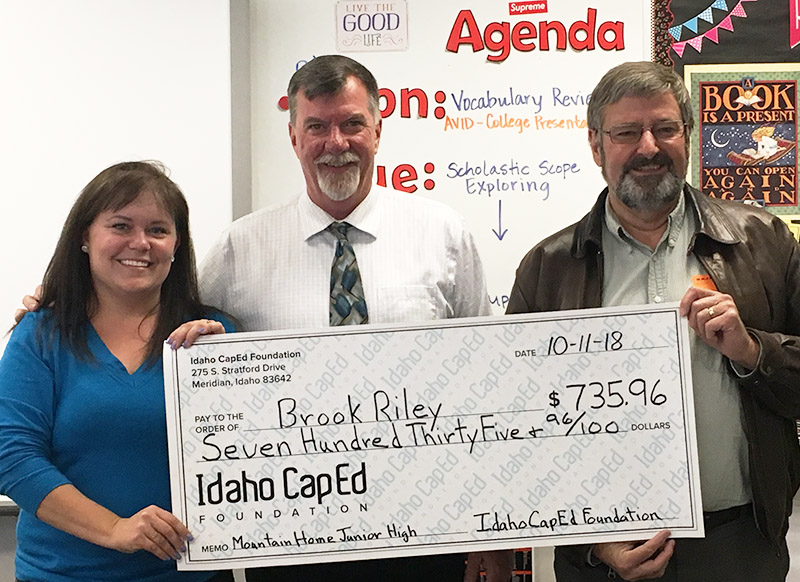 Novels That Engage and Educate
Brooke Riley - Mountain Home Junior High, Mountain Home
$735.96
One novel that we read every year is the Newbery Medal winning "The Giver" by Lois Lowry. The students were excited to read it every day and they would even stop me in the hall to make sure we were reading more than one chapter. There are so many things to love about this novel but the ending is ambiguous. Lowry wrote two companion novels to "The Giver" ("Gathering Blue" and "Messenger") and a conclusion to the novel "Son." My students are always clamoring to read these books (especially "Son") when we finish "The Giver." One thing I would like is to have multiple copies of these novels so my students can delve right in as soon as we finish "The Giver" and they don't have to spend time on a waiting list. The outcome I expect from this grant is that my students will be exposed to literature that is rich and engaging. I hope that this will encourage them to read for pleasure which is a lifelong skill that will never leave them.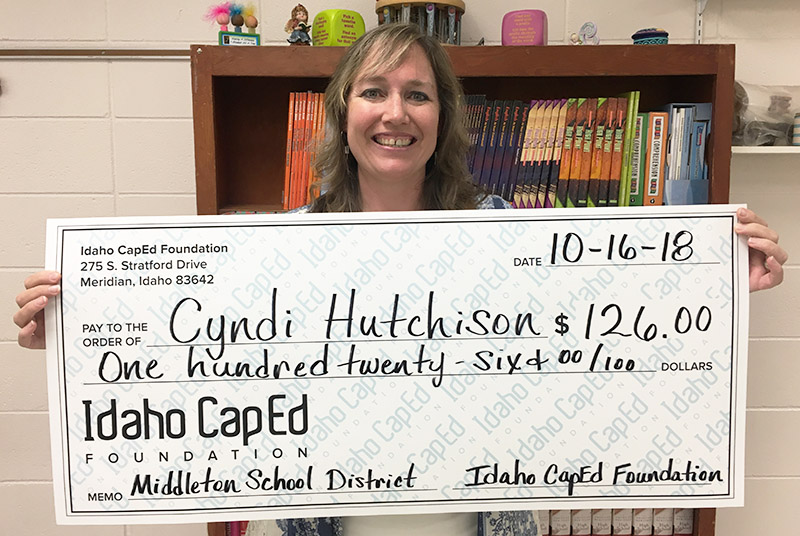 Tools in the Parents' Hands
Cyndi Hutchison - Middleton School District, Middleton
$126.00
My migrant parents constantly struggle to understand how to help their students in the various academic areas due to a language barrier. With this grant, I will be providing each family with a copy of this homework dictionary for parents. It goes through all of the subjects and breaks down the skills with translations and examples so that they will have tools to understand what is being asked of each student.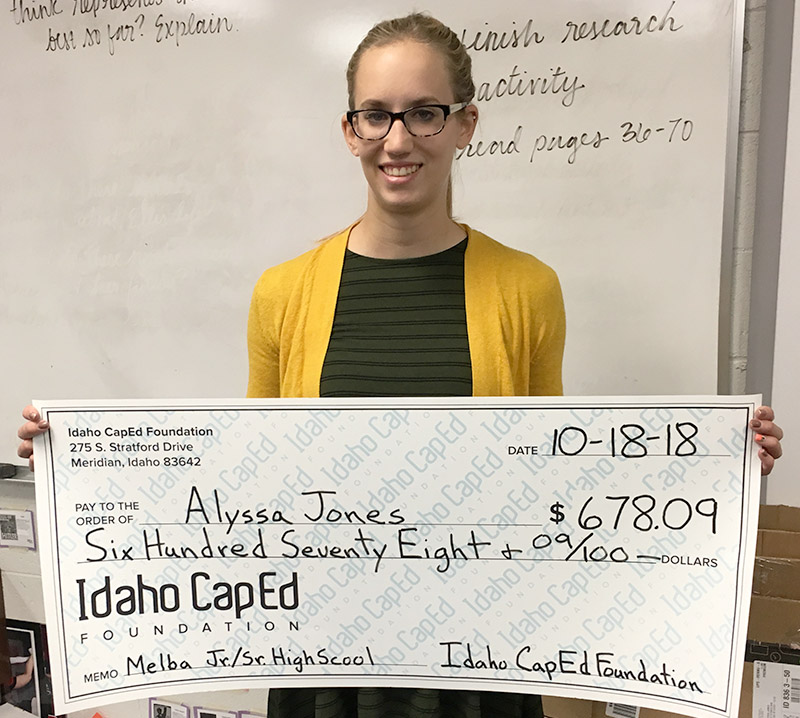 Literature Circles
Alyssa Jones - Melba Jr/Sr High School, Melba
$678.09
Each year my students participate in a literature circles unit. My 7th graders read novels that surround the idea of personal growth, while my 8th graders read to better understand conflicts within society. Literature circles are a great way for students to learn to work together in small groups to accomplish one goal. Students are assigned reading each week and then complete roles to help enhance group discussion about what was read. These roles could be discussion director, reporter, artist, diction detective, etc. At the end of the week, the students hold a mini Socratic Seminar to discuss what was read. Together, they can work to completely comprehend the novel they are reading. This is such a wonderful unit that not only teaches comprehension and literacy, but life skills. This unit is only possible, though, with books available to students. Right now students have to share, and if one is absent, we don't have books for them to check out and catch up with. This grant will help us get enough novels for each student to rent their own to be 100% successful throughout the entire unit.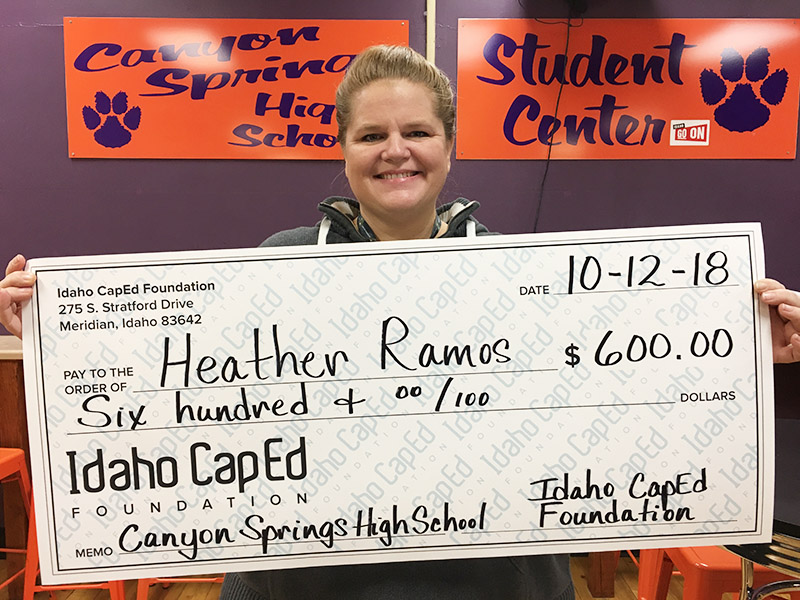 Canyon Springs Closet
Heather Ramos - Canyon Springs High School, Caldwell
$600.00
Canyon Springs High School serves the at-risk youth in the Caldwell area. Unfortunately, many come to school hungry, without clean clothes, simply not ready for their day. Our students face many obstacles in and out of the school day. Most are behind in credits to graduate, are behind in grade level, and in need of intervention to accomplish graduation. We also understand that many of our kids are dealing with issues such as homelessness, parental incarceration, lack of food, and lack of sleep. A few groups within the school are working to provide our own "Canyon Springs Closet". This room would provide clothing, backpacks, toiletries, blankets and food to take home each night if needed. We will be using the grant to buy a refrigerator to store food and shelving for the room to organize and make items easy to access for the students. All donated items will be washed, organized, and inventoried by kids working on their Senior Projects or students that involved in school clubs.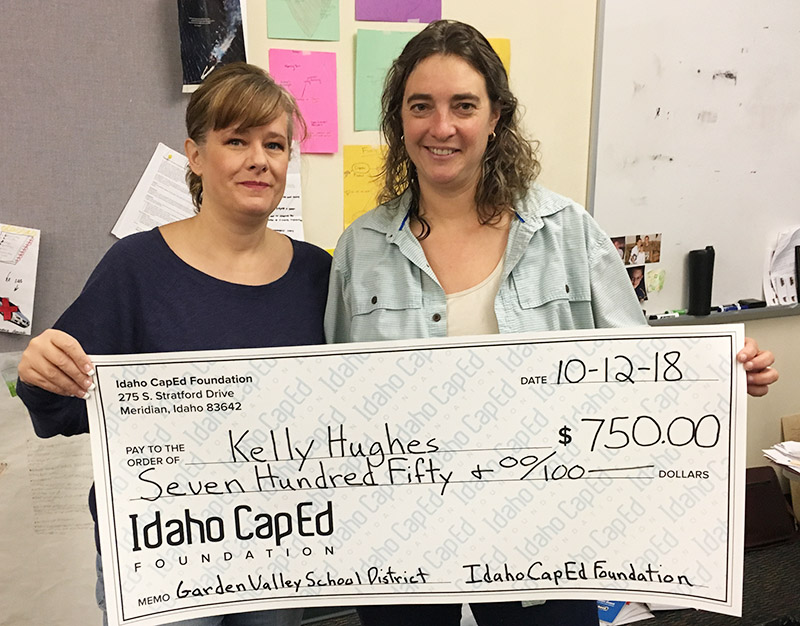 Performance Lighting
Kelly Hughes - Garden Valley School, Garden Valley
$750.00
Garden Valley School will be using the grant funds to acquire a professional, portable lighting system to support our performing arts program. Currently, our music and drama students perform on the stage at school and/or the stage at our community hall. Neither of these locations has a lighting system other than basic overhead lights. The addition of a portable lighting system would allow us to improve the quality of our productions.