February 2018 Grant Recipients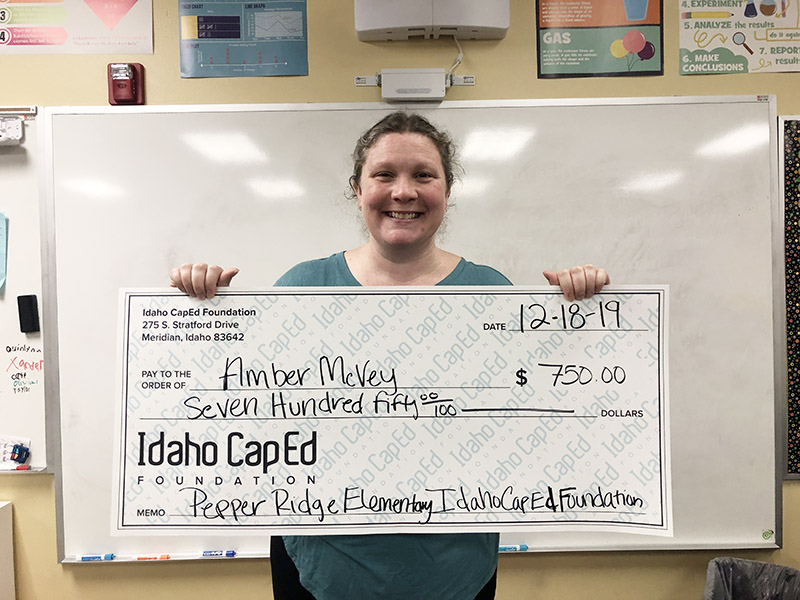 Keeping Bellies Full and Kids Clothed
Amber McVey - Pepper Ridge Elementary, Boise
$382.35
In our school there are students who do not have enough to eat and who may need additional clothing. This means they are not able to fully focus in class, attend to instruction, and a plethora of other things. They are busy focusing instead on their body and its needs. We would like to provide small snacks to these children so that they can have their basic needs met as well as clothing items that may be needed. While teachers in our building currently provide as much as they can, there simply isn't enough for all students who have these needs. Our project would have a designated area, the safe-school aides office, where students in need could access food and clothing. This would be monitored by the nurse, counselor, safe-school aide, and principal. Teachers would be able to access items for their students, as well. We will ask for donations and additional grants to continue stocking the area as students use the supplies.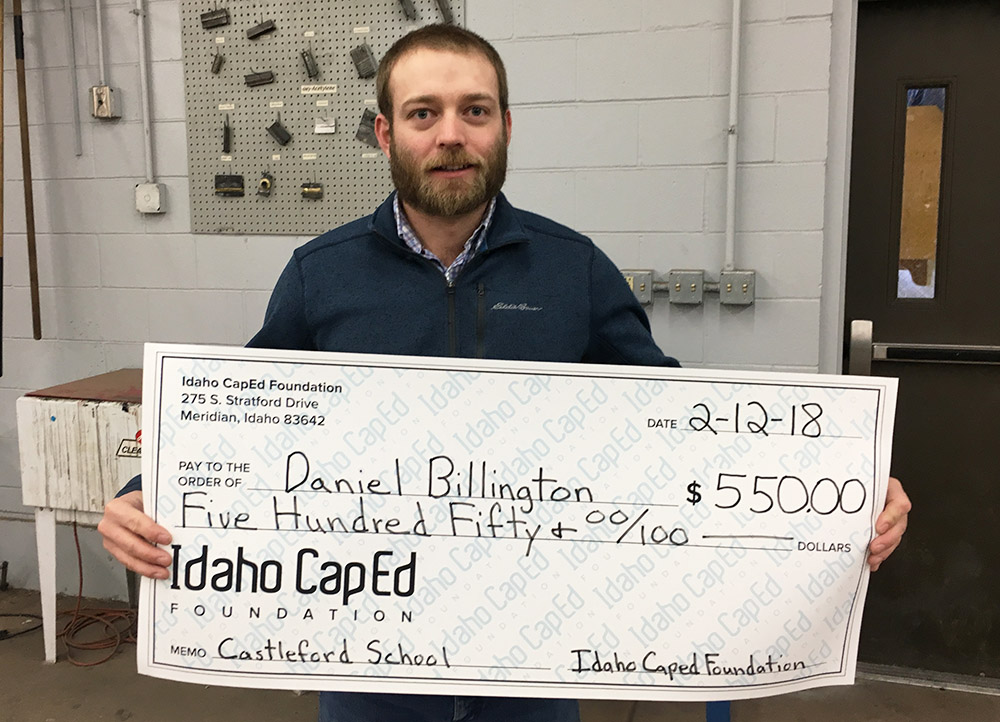 Castleford Welding Program Safety
Daniel Billington - Castleford School, Castleford
$550.00
The funds from this grant will help purchase new welding gloves for the students within my welding and technology courses. When students enroll in these courses they are expected to receive a quality education where they will learn the fundamentals of metal working and welding. The skills that they learn in my class are taken back home and implemented on the family farms, ranches, and dairies. By applying what they learn from class, the students gain a sense of pride by helping their families out and saving money with not having to hire a professional to make the repairs or build essential things for the family business.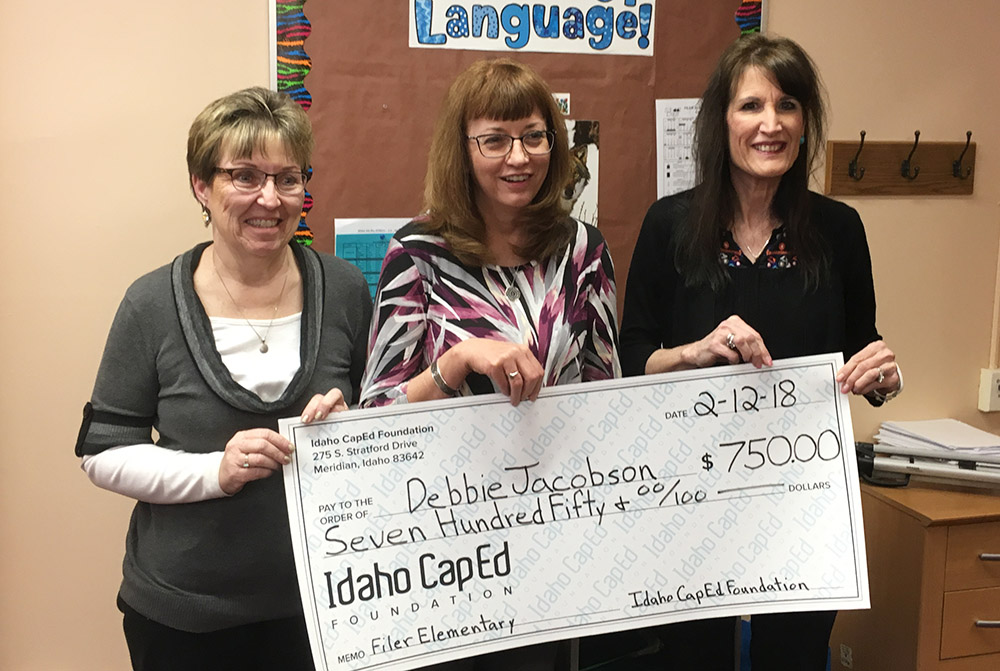 Speech-Language Testing Kit
Debbie Jacobson - Filer Elementary, Filer
$750.00
Speech and language assessments are utilized to quickly and accurately diagnose language disorders. This grant will help provide monetary support to purchase a much-needed speech and language assessment for our schools. This assessment is known as the CELF-5 (Clinical Evaluation of Language Fundamentals-Fifth Edition, 2013). Currently, the District is using an outdated version (CELF-4, 2003) of this assessment. The expected outcome, the purchase of the CELF-5, would allow our Speech and Language Pathologist to administer an updated, comprehensive assessment to children across the District, ages four years to age 21.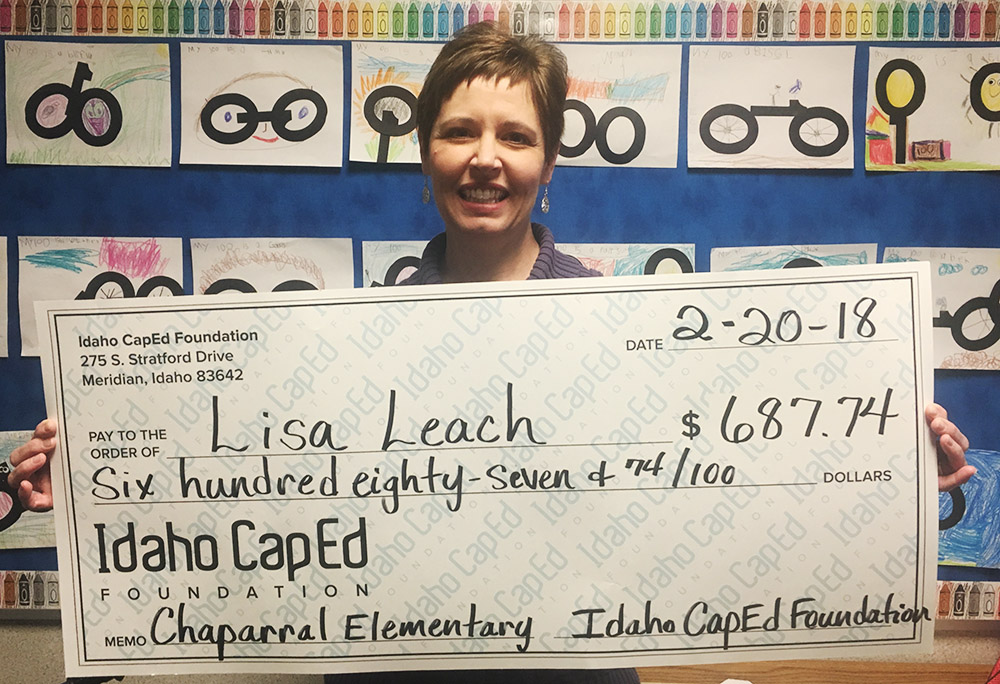 Kindergarten Readiness Bags
Lisa Leach - Chaparral Elementary, Meridian
$687.74
This grant will fund the creation of Kindergarten Readiness Bags. These bags will be given to incoming students during Spring Kindergarten Registration at my school. The bags will contain items that will provide students with the opportunity to increase skills prior to entering Kindergarten. Fine motor skills will be addressed through the use of a proper pencil grip and correct scissor grip. The strengthening of hand muscles will be encouraged through the use of Play-Doh and scissors. Early reading skills that include upper and lowercase letter recognition, rhyme, and basic writing will also be addressed through teacher made letter flashcards, a name plate, and early learning workbooks. Teacher created directions will be included for each item contained in the bag along with information regarding the importance of each skill.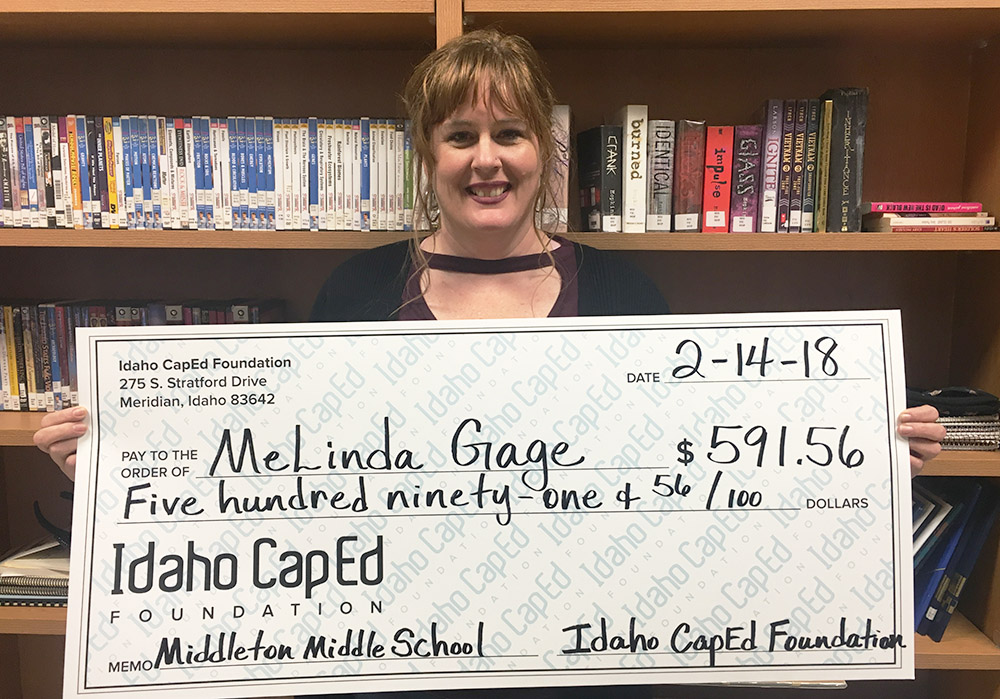 Our Place in the Universe
MeLinda Gage - Middleton Middle School, Nampa
$591.56
With the Modeling the Moon's Motion and Phase Lab Activity, students will be able to identify phases of the moon through this inquiry based lab activity, and explore how The Sun, The Earth and The Moon affect each other. The iOptron LiveStar Mini Planetarium will help students explore the placement of planets in the nights sky and in reference to the celestial horizon. Later Students will be able identify constellations they have studied in reference to ancient civilizations, using their prior knowledge of placement of the planets in reference to key stars in the night sky. The True Scale Model Solar-System will help students explore ratios of planet sizes, using this True Scale Model as their Control. After they will be able to use this Model to place the planets in their proper distances to understand the scale of the Solar System in reference to how large The Earth is.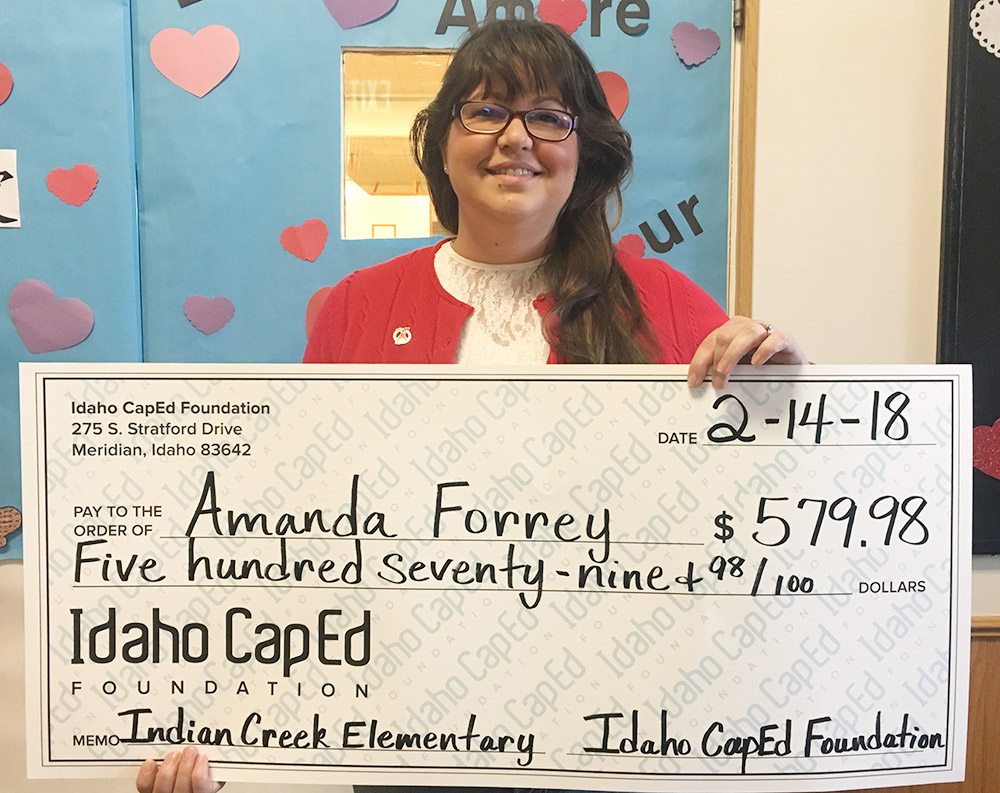 Our Kids Need Headphones
Amanda Forrey - Indian Creek Elementary, Kuna
$579.98
Much of our testing these days is on devices, so the need for headphones is great. Our lab doesn't have enough headphones for the number of computers and many of the headphones we do have are being held together by tape, are missing the foam padding, or only one side produces sound. We also have about 48 Chrome books that didn't come with headphones. Our classrooms have 5 or so desktop computers without adequate headphones so our teachers usually supply what is needed on their own. This grant would provide the necessary tools our students need to access our district, state and classroom testing, so they can do their best.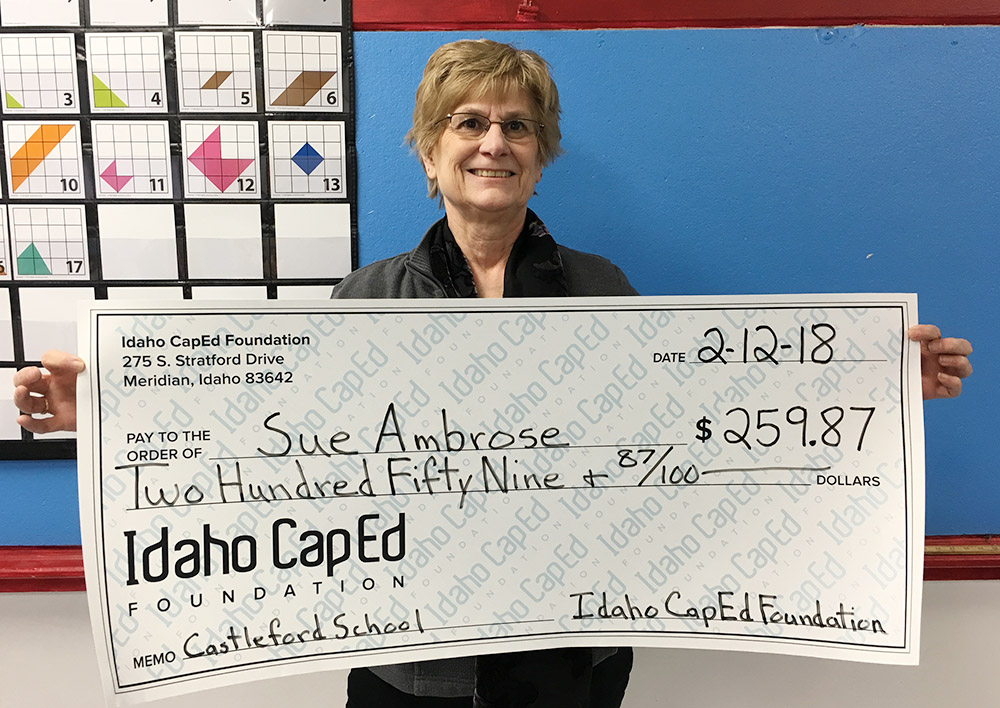 Wind, the sun and me
Sue Ambrose - Castleford School, Castleford
259.87
The Wind, the sun and me is an in-depth look at renewal energy sources and how they will impact our future. I would like to be able to enrich my students' learning through a curriculum steeped in a STEM model. In order to help propel my students into a lifelong habit of further inquiry, I am looking for ways to harness the energy and enthusiasm for learning that they bring into my classrooms. My mission is to provide an opportunity for my students to have hands-on experience with up to date technology, as well as the educational programs and applications that are available for use. This curriculum will help propel my students into the future with their knowledge of renewable energy and what it can offer them in terms of their futures.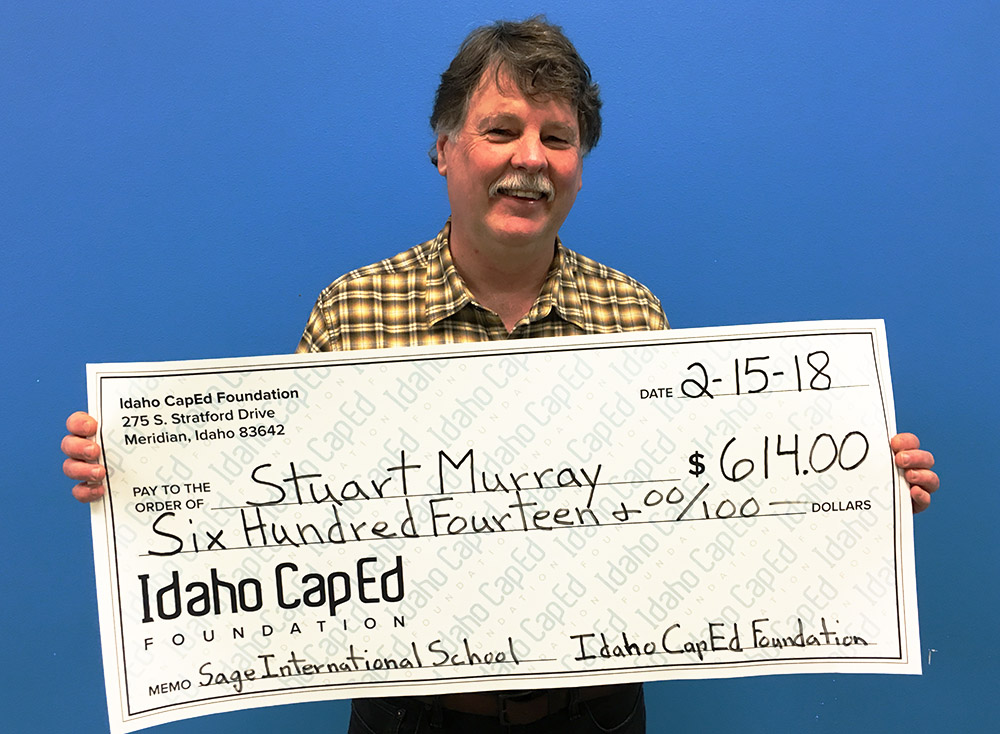 The Art of Bicycle Maintenance
Stuart Murray - Sage International School, Boise
$614.00
Students that are best prepared to exit high school and become active, productive members of their communities are those that built meaningful relationships and felt successful during their time in school. Currently at Sage we have a group of students that are not connected to other students or adults through extracurricular activities. We propose starting a club - The Art of Bicycle Maintenance - to engage students who are currently uninvolved in extra-curricular activities in a club that will teach them to be successful bike mechanics, offer opportunities for community involvement, and build lasting relationships. Classroom work involves taking a complex system and breaking it down into understandable parts that can then be improved. Building these skills enables students to tackle difficult problems in their lives and careers with confidence. By teaching students how to maintain and repair the basic parts, we can help them build real skills and to be successful at solving problems by reducing them to manageable parts.
Classroom Projector
Carol Thompson - Ambrose School, Meridian
$750.00
Projector use will unify student focus and enhance their engagement in the lessons. A projector will make it easy to access the internet to address questions, show diagrams of current concepts, and foster a conceptual understanding. Projection facilitates collaboration, another necessary skill: students grasp concepts when they are working in groups, and – with the projector – I can show material while walking around and interacting. I could enrich my lessons with visuals. Students could participate on the whiteboard. With websites like Desmos.com, they could predict graphs and translations rules. They could take their mathematical knowledge and apply it to other sciences, perhaps discover the formula for cold fusion or resolve man's quest for a zero-calorie cheesecake that tastes good. Dare we stand in the way?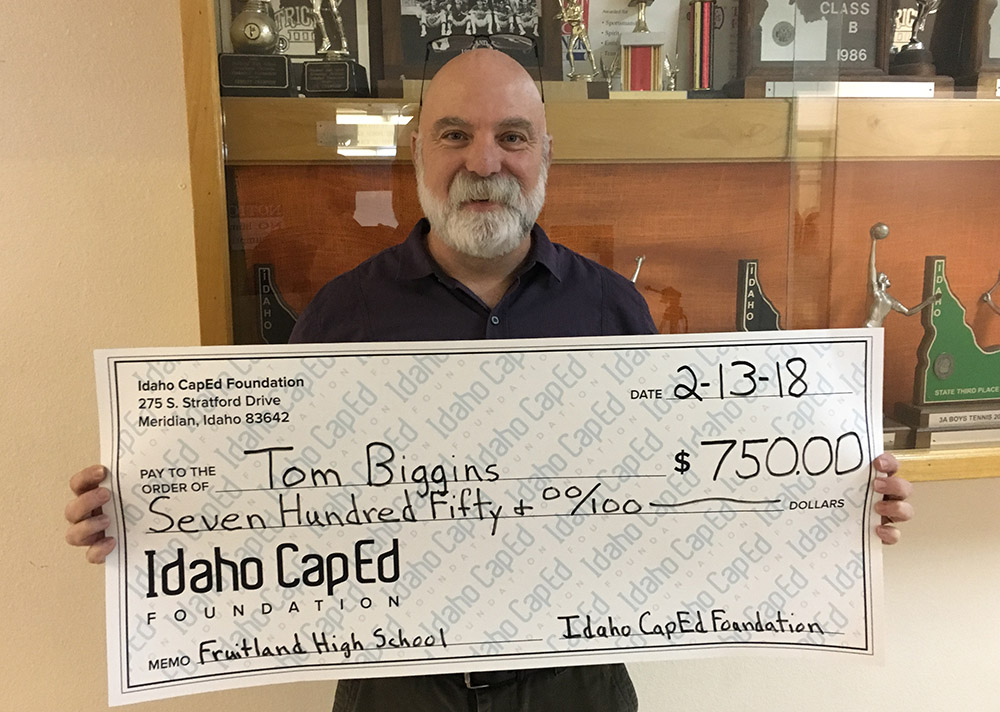 FHS STEM Careers Exploration Class Resources
Tom Biggins - Fruitland High School, Fruitland
$750.00
Fruitland High School has added a new course, STEM (Science Technology Engineering & Mathematics) Careers Exploration, to the course offerings for the Spring 2018 semester. STEM Career Exploration is designed as a hands-on course, where students are able to delve into the fields of Science, Technology, Engineering and Mathematics, to learn about careers that may already be or may become of interest to them. Fruitland High School is in need of the start up funds to help purchase the supplies and classroom resources necessary to make this class successful. With this grant, we will be able to fund the startup costs to do this. Fruitland High School would like to continue to offer STEM Career Exploration each year for students, and with these funds, this would be an attainable goal.