November 2017 Grant Recipients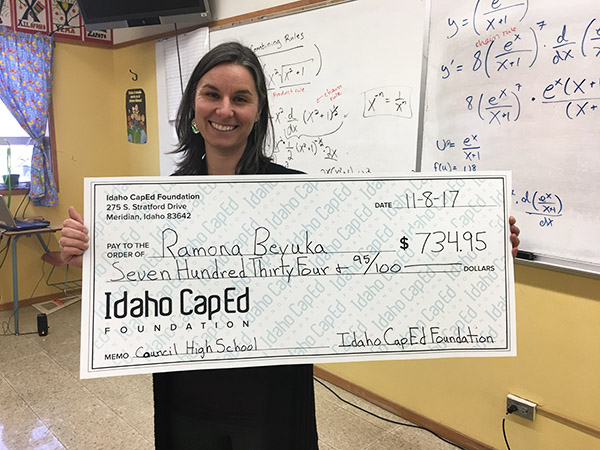 A Twenty-First Century Classroom
Ramona Beyuka - Council High School, Council
$734.95
With better technology of an Epson projector combined with a Samsung Galaxy Tab A 10.1, I can display classroom material in a way that the entire classroom can benefit. I will have the freedom to present from anywhere in the room, rather than standing up front and clicking through my slide show. I can solve problems and present ideas on my tablet while moving around, removing some of the time consuming drawing on the whiteboard, and allowing me proximity to my students, keeping them engaged. The technology purchased with this grant will help my students benefit from the effort I put in to becoming a better teacher.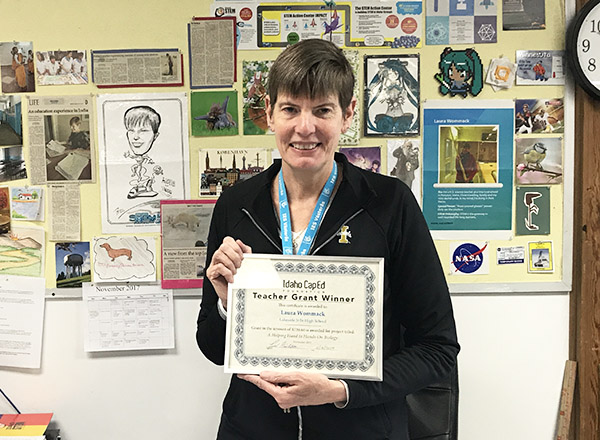 A Helping Hand to Hands-On Biology
Laura Wommack - Lakeside Jr-Sr High, Plummer
$739.60
My school is 100% free and reduced lunch and I have no lab supplies in my Biology classroom. This grant request is for a variety of lab kit materials and supplies for eight separate labs to offer a hands-on experience for 10th grade science students. The materials, provided by Flinn Scientific, provide inquiry and best-practices-focused science laboratory experiences for students, tightly linked to state standards and traditional Biology curriculum. As a teacher who has taught Biology for 8 years before coming to this school, I understand how important these experiences are for deeper understanding of concepts and student engagement.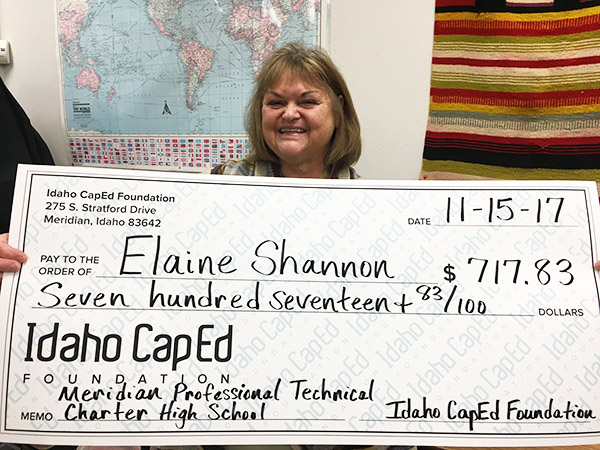 Destination: Mars
Elaine Shannon - Meridian Professional Technical Charter High School, Meridian
$717.83
Our entire freshman class does an annual grade level project about Mars. In this project students study the planet, its geology, atmosphere, and distance from Earth, etc., to determine what would be necessary for humans to live there. They also study the issues involved with traveling to Mars using our current technology, navigation on the surface of the planet, and the knowledge humans would require in order to survive on Mars. Additionally, students learn how to calculate cargo and how it affects the amount of fuel a spacecraft would need in order to reach Mars. They look at simplified trajectories, calculate velocities of sling-shots around planets, etc., to determine the amount of time it will take for a spacecraft to reach Mars from Earth. I would like to add a hands-on element. Creating a model of a Mars Rover, students will garner a better understanding of these delicate marvels of technology. I plan to add motion to these models with pager motors, along the lines of bristle 'bots.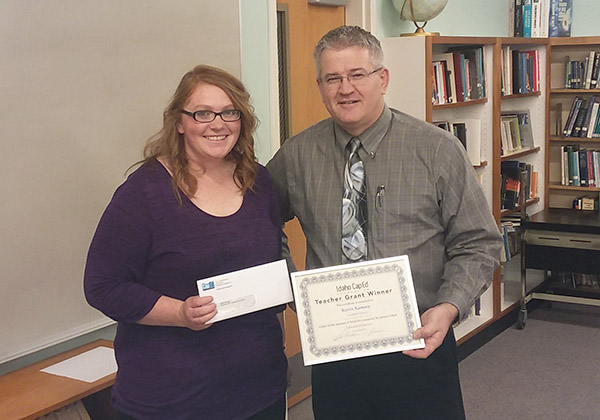 Calculated Success
Kevin Ramsey - Leadore School, Leadore
$456.00
I will be purchasing four new graphing calculators and accompanying batteries that will allow students a greater capacity to work at their own pace in different classroom settings. For the past eight years, our district has been working to offer advanced mathematics by offering Advanced Placement (AP) and Dual Credit (DC) courses at the Junior and Senior level. To do this, a strong emphasis has been placed on math in the elementary and junior high. This shift in learning places a burden on the district to provide the tools and resources needed for our students to succeed. Purchasing four new graphing calculators will help the school replace older and damaged machines and place newer, more updated technology in the hands or our students.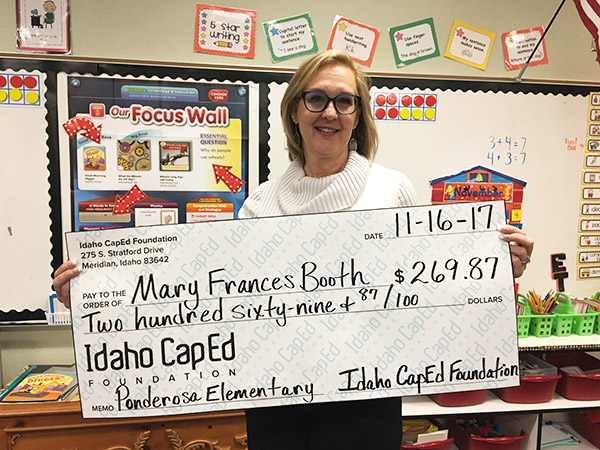 Magna Tiles Manipulatives
Mary Frances Booth - Ponderosa Elementary, Meridian
$269.87
Our Kindergarten students are busy, hands on, creative learners! Hands-on learning allows our students to keep hands busy and their minds intrigued. Research shows that when students use their hands and physically perform a task, they are more likely to learn from it. Often during our literacy block, there is less hands-on learning so I like to ensure that our Math, Science, and Exploration times allow for hands-on activity! I will be purchasing Magna-Tiles for our kindergartners. Magna-tiles are an amazingly flexible, hands on learning manipulative. Magna-Tiles allows students to be creative and practice problem-solving. They also encourage students to collaborate, communicate, and share. Magna-tiles enables students to create structures that are not possible with regular tiles because these are magnetic. Magna-tiles are an excellent resource for my classroom because while students think they are playing, they are actually getting a solid, independent lesson in STEM.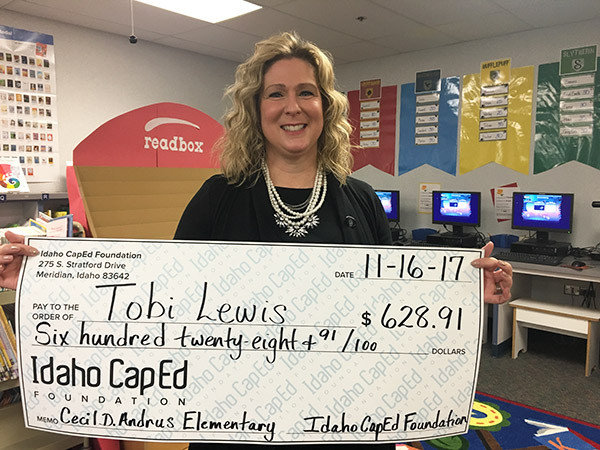 Focusing Through Proprioception
Tobi Lewis - Cecil D Andrus Elementary, Boise
$628.91
One of the most difficult challenges for children with sensory processing issues is the inability to self-regulate which decreases their tolerance to stress, increases sensory defensiveness, and impacts overall learning in the classroom. Children who are overwhelmed with anxiety tend to exhibit problematic behaviors in the form of refusals to participate, physical aggression, or total shut down. Inability to organize sensory information affects overall focus and creates a barrier to learning. The provision of deep pressure has been beneficial to help to desensitize, improve proprioception (understanding the position of their body in space) and provide a calming sensation. The use of a squeeze machine will help to strengthen foundational sensory systems in the body and underlying motor skills that are essential for both academic success and focus control in the classroom through playful means. The squeeze machine consists of a series of foam rollers that the child moves through which provides pressure on the front and back surface of the body. Moving through the machine strengthens extensor muscles needed for an upright posture, allows the child to bear weigh on the upper extremities which strengthens palmer muscles for fine motor control for handwriting and manipulation, and allows the child to have a sense of control on how the sensory input is given.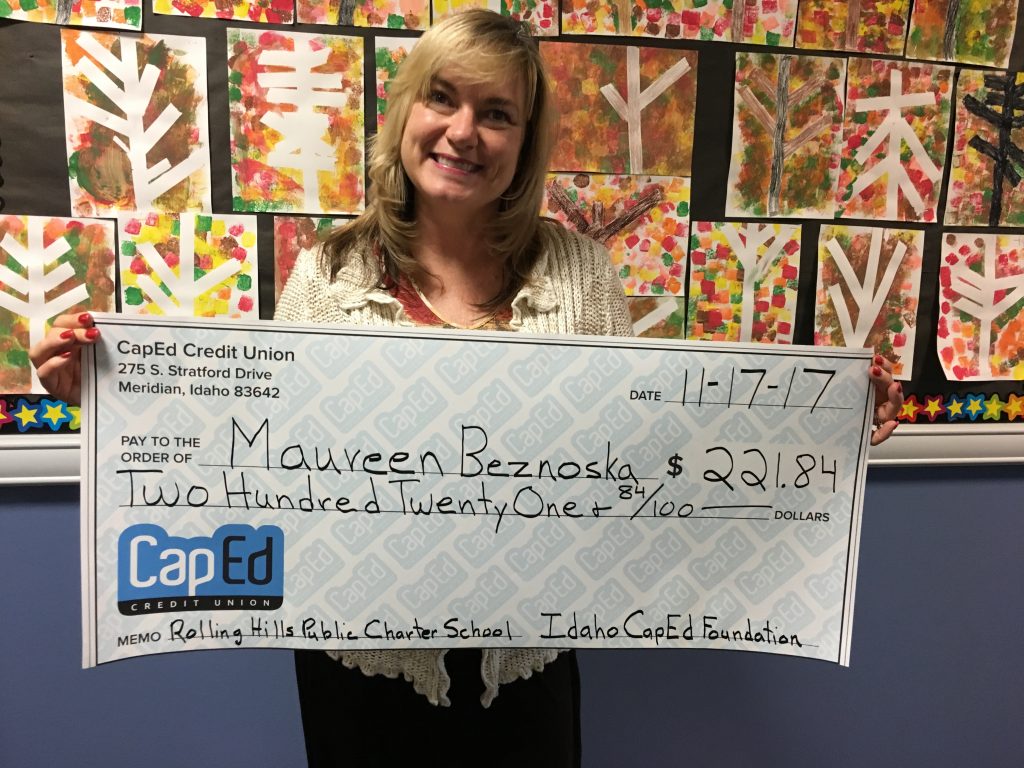 Environmental Science
Maureen Beznoska - Rolling Hills Public Charter School, Boise
$221.84
Rolling Hills has a diverse population with many students that have special needs. We qualify as a Title 1 school and have a significant number of low income students and we have a large school garden to support nutrition education and our science curriculum. We utilize our garden as an important part of our science curriculum and have an active gardening club. It is a community garden and we frequently serve our veggies in the healthy choice bar in our school lunch room. Students can take home extra veggies as well. Our garden beds currently require soil enrichment. We require 16-50lb bags of clean manure and or compost. The beds are raised beds constructed out of wood. They need to be restrained to insure a long life. The whole school will benefit with a larger crop next year and strong beds for years to come.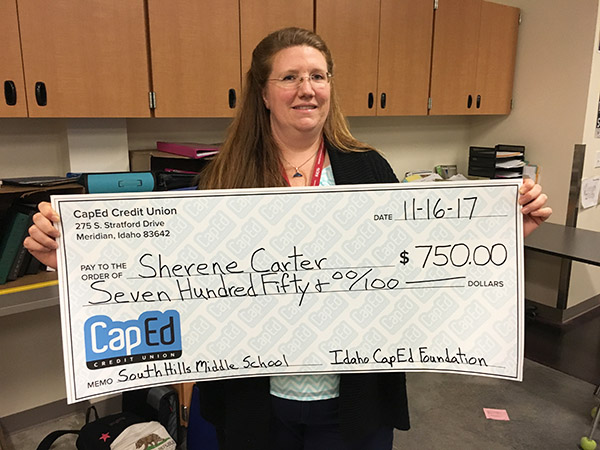 Science of Simple Machines
Sherene Carter - South Hills Middle School, Twin Falls
$750.00
This year, 8th grade STEM students are learning with the Project Lead the Way curriculum Science of Technology. Within this course, there is a unit on Applied Physics: Simple Machines. I would like to revise and enhance this unit by dividing into 6 groups. Each group will be assigned one of 6 simple machines: screw, inclined plane, lever, pulley, wheel & axle, and wedge. The students will be responsible for researching their assigned machine's purpose, function, and mechanical advantage. They will present their information to the class and create a simple task for the students to perform utilizing their assigned simple machine. They will also devise a small assessment for their peers to complete to assess their understanding of the machine as well as give them practice in calculating the mechanical advantage of the machine. At the conclusion of that part of the unit, students will be assigned to create a Rube Goldberg apparatus utilizing each of the 6 simple machines. Students will receive a 12 x 12 inch plywood board to construct their simple machines on. They will utilize the Design Process as they complete their systems. They will utilize technical sketches, prototyping, computer-aided design, and 3D printing as they work to construct each machine.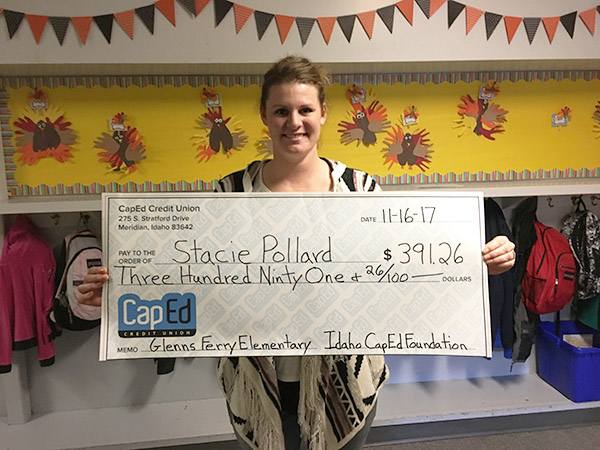 Yoga Affirmations
Stacie Pollard - Glenns Ferry Elementary, Glenns Ferry
$391.26
I stumbled across a video by Cosmic Kids Yoga called Jamie's Rainbow of Confidence. It is a six minute yoga session where students go through a rainbow tunnel, meeting new animals (along with different yoga poses), and stating new affirmations along the way. For example, the elephant tells them that they will be strong today. The lion tells them that they will have confidence today. The tweety-bird tells them that they will speak kindly and honestly today. They finish with the owl who tells them that they will be great today. We do this quick brain break every morning to start our day out positively. I believe that this morning routine is helping my students prepare for a great day. As soon as we are done with our session we begin math. I have 90-100% engagement during our math lesson and I attribute this to allowing my students to calm and clear their mind. Because of the many benefits of adding yoga to my classroom, I am requested this grant in order to purchase 25 yoga mats.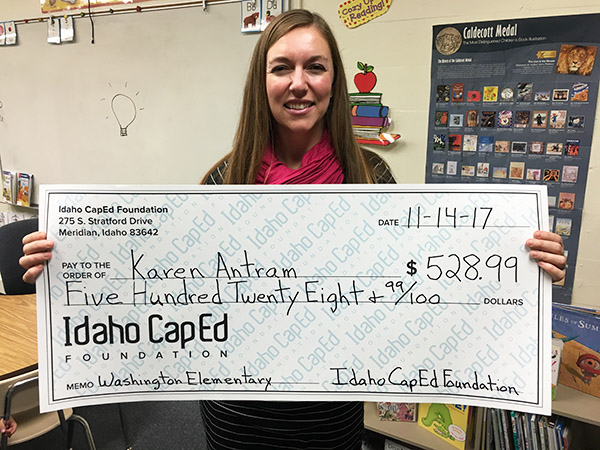 Literacy Boost!
Karen Antram - Washington Elementary, Boise
$528.99
The Literacy Boost program will provide materials to the reading specialist classroom at Washington Elementary School. Specifically, I will purchase a beginning alphabet sounds manipulatives set, the storage rack, as well as additional ABC and early-reader books. These materials help emergent readers engage with letters and their sounds in a concrete and interesting way and also immerse them in high-quality books that are engaging and appropriate for their literacy development. The additional books purchased for the reading specialist classroom will be integrated into focused literacy lessons as well as available to students for free reading, buddy reading, and check-out to take home. Research shows that access to more high-quality children's literature correlates to better literacy outcomes for students.