January 2017 Grant Recipients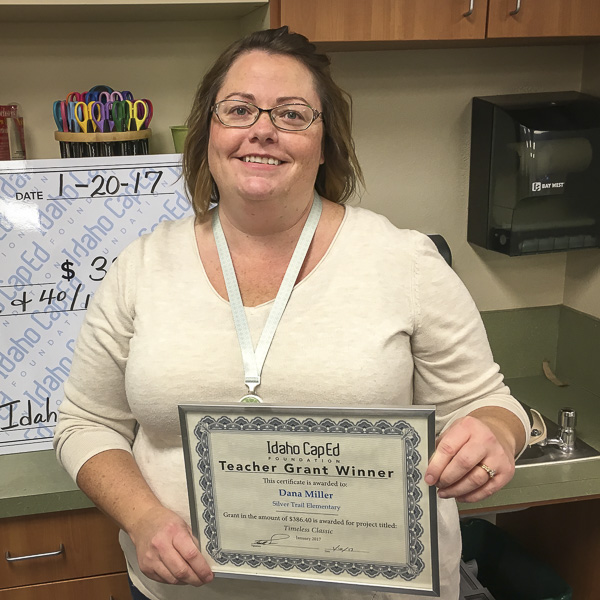 Timeless Classic
Dana Miller - Silver Trail Elementary
$386.40
My project, Timeless Classic, is an effort to bring Charlotte's Web to the entire third grade at my school. Right now, we have 30 books to share among three classrooms for our novel study of this classic story. My goal is to purchase 60 more copies of the novel as well as the audio book so that every third grader at my school has the opportunity to use a book throughout the day for our novel study and independent reading work.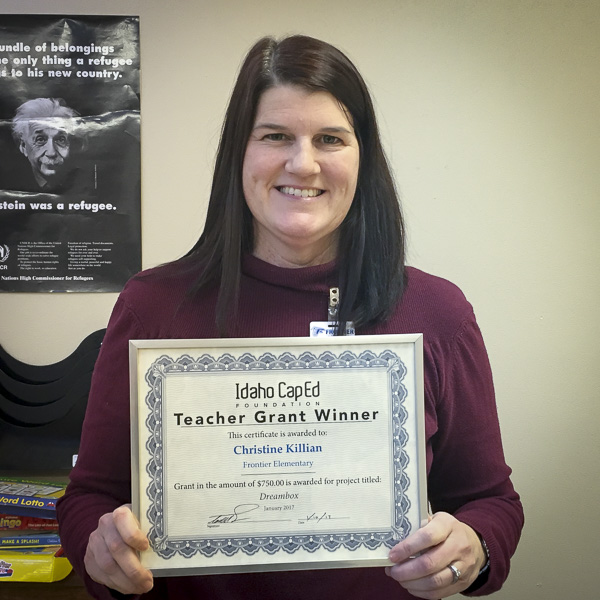 Dreambox
Christine Killian - Frontier Elementary School
$750.00
DreamBox Math is an online adaptive learning program designed for children at the kindergarten through 8th grade levels that assesses each student's progress and adjusts the lesson plan accordingly. The interactive online platform can analyze and use the results obtained to provide the student with the best possible lesson at the correct time. As the Title 1 Teacher at Frontier Elementary, this math intervention will allow me to assess each struggling math student that I work with in grades 2-4 and monitor their growth more efficiently.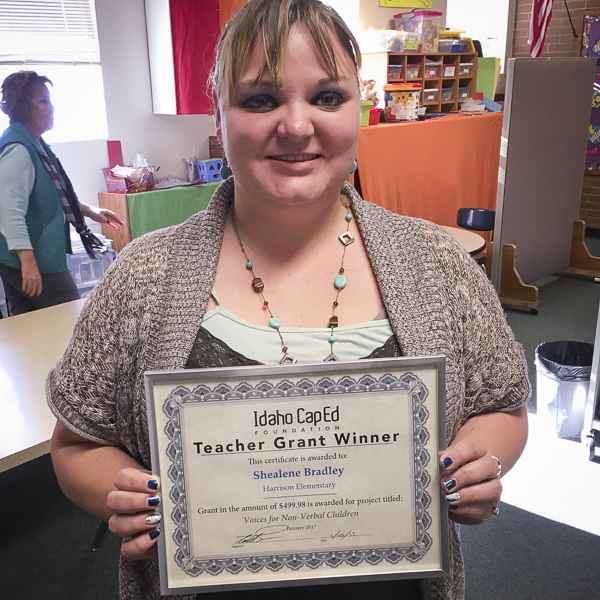 Voices For Non-Verbal Children
Shealene Bradley - Harrison Elementary School
$499.98
Often times, our students are candidates for Augmentative and Alternative Communication (AAC) devices, such as iPads, that will serve as the student's "voice". An AAC device can even help a child who has limited verbal communication skills expand his/her vocabulary. However, the process that it takes from determining eligibility, to qualification, to actually purchasing a device through insurance or Medicaid can literally take months. During this process, valuable learning time is either lost or severely diminished while this child waits to receive his/her "voice."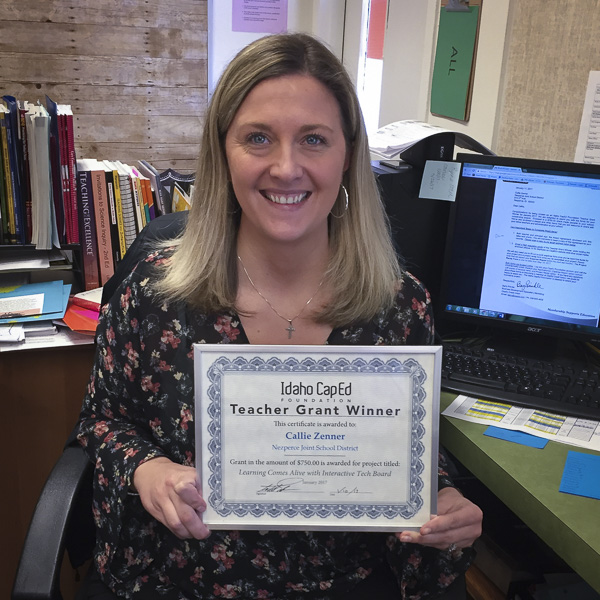 Learning Comes Alive with Interactive Technology Board
Callie Zenner - Nezperce School District
$750.00
Our math curriculum includes online digital tools that become interactive math manipulatives through use of the board. With science and engineering the board becomes a delivery system that allows students to dive deeper into the engineering design process for solving real world problems in the classroom. Students can use the board for research and design of their ideas. They can follow project completion by using the board as a presentation tool that allows them to communicate their ideas and processes in a new interactive way to fellow students, teachers and parents.
=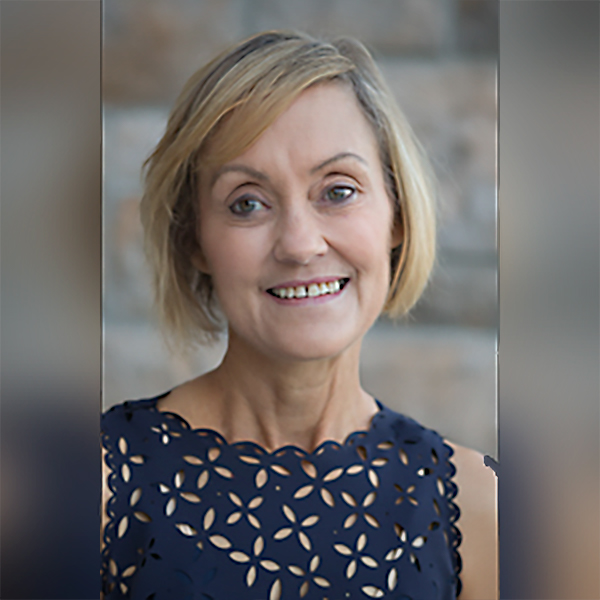 Bird Book Library
Julie Moy - The Ambrose School
$124.71
Through art, math, presentations, and books, we are able to integrate the study of birds throughout every aspect of the kindergarten curriculum. For example, during our study of penguins we present the entire school with a program with each student constructing a mask of their penguin to wear, presenting facts about their chosen penguin species, and memorizing penguin-themed poems. This culminating activity is specifically designed to show our parents the growth and capability of each and every student.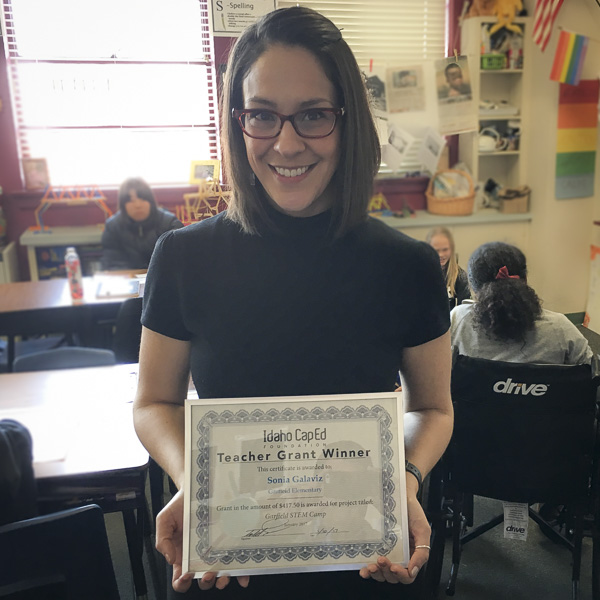 Garfield STEM Camp
Sonia Galaviz - Garfield Elementary
$417.50
One of our goals is to provide a monthly STEM Camp for Garfield Elementary students, 4th-6th grade. Each month will have a different integrated STEM theme with hands-on materials and exploration. Each theme will have local area connections through guest speakers in a related profession and field trips related to the month's theme. Each camp will also provide enough materials that students can take home their designs, rockets, engineered machine, etc. The curriculum and projects used for Garfield's STEM Camps will be drawn from Next Generation Science Standards and Idaho State content standards in science, technology, engineering, and mathematics.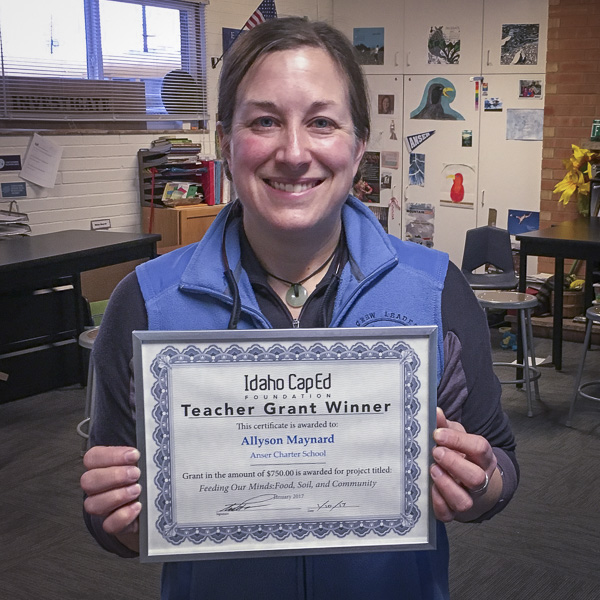 Feeding Our Minds: Food, Soil, and Community in the Treasure Valley
Allyson Maynard - Anser Charter School
$750.00
This winter, I would like to expand our food system unit to take a deeper and more local look at what it is that fuels our bodies. "Feeding Our Minds: Food, Soil, and Community in the Treasure Valley" would be a collaboration between Spanish, Art, and Science, allowing science content to be taught in a real-world and integrated context. I would like to use Michael Pollan's Omnivore's Dilemma as our anchor text. This engaging book examines 4 food systems, and a structured book study will provide opportunities for high-level reading, writing, and critical-thinking skills in a science context.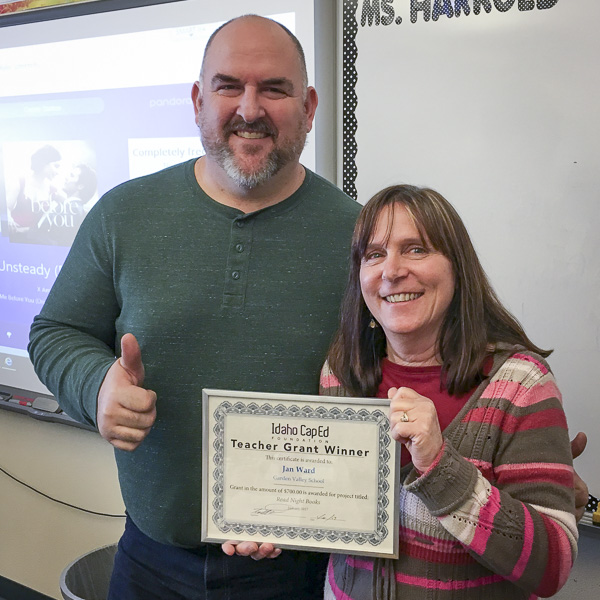 Read Night Books
Jan Ward - Garden Valley School
$700.00
As co-coordinator of this event, I would like if each student was able to choose a NEW book that they would receive that evening. I would use the Scholastic book site as they have many reasonable priced books. Scholastic also does a good job of labeling books per grade level and readability so students and teachers can work together to find books that are a "good fit" book for each student.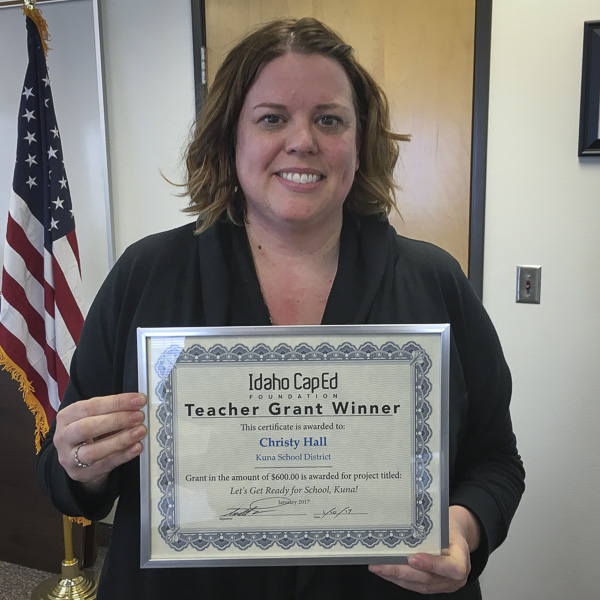 Let's Get Ready for School, Kuna!
Christy Hall - Kuna School District
$600.00
The classes will focus on Kindergarten Readiness, early literacy and STEAM activities (science, technology, engineering, art, and math). Participants will not only take away activities in these areas, but will also earn free Professional Development Credits with Idaho Stars. We are requesting a grant from CapEd to purchase a bag for each participant who attends all three classes this spring. This bag will contain items they can use for STEAM activities in their own classrooms.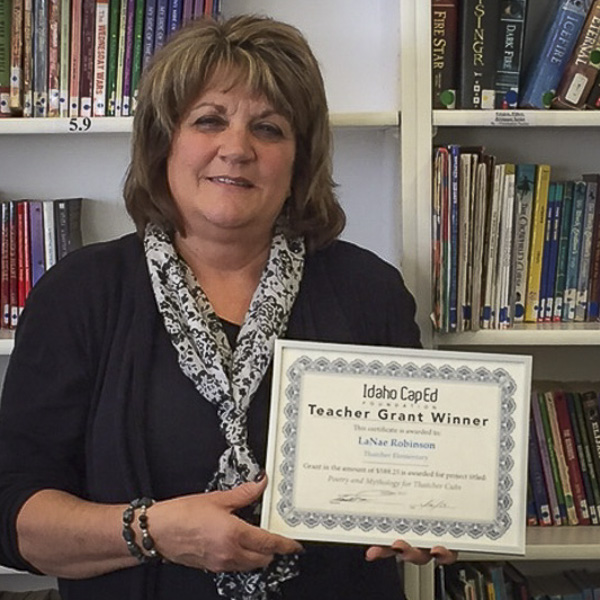 Poetry and Mythology for Thatcher Cubs
LaNae Robinson - Thatcher Elementary School
$589.25
Well-illustrated anthologies in these two genre would be used as an overview to study poetry and mythology. A classroom set of both poetry and mythology anthologies could be used by all of the teachers in the school on a check-out basis. The requested poetry anthology, A Child's Book of Poems, is illustrated by Gyo Fujikawa. Proverbs, limericks, nursery rhymes, folk songs, and other classical poems are included in the anthology. Some of the poets featured in the anthology are Henry Wadsworth Longfellow, Lewis Carroll, William Shakespeare, and Emily Dickinson.