November 2016 Grant Recipients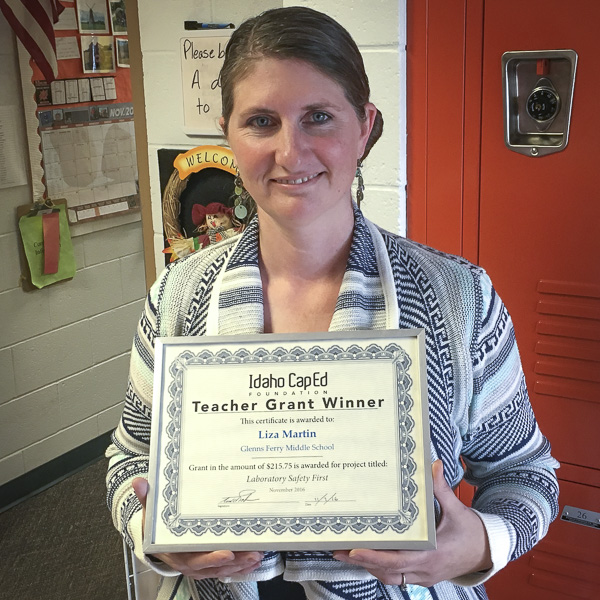 Labratory Safety First
Liza Martin - Glenns Ferry Middle School
$215.75
Currently, I have a class set of goggles that were purchased by the school district. However, we are lacking in protective gloves and aprons and have no remaining lab supply funds. In the past, I have asked for donations of disposable gloves from the school lunch department or purchased gloves using my own money. I am requesting funds for enough gloves to supply labs for several years. I also have a collection of large T-shirts that my students wear to cover up their clothes. While these shirts offer stain protection for the student's clothing, they do not offer protection from chemicals that would soak through to the student's skin.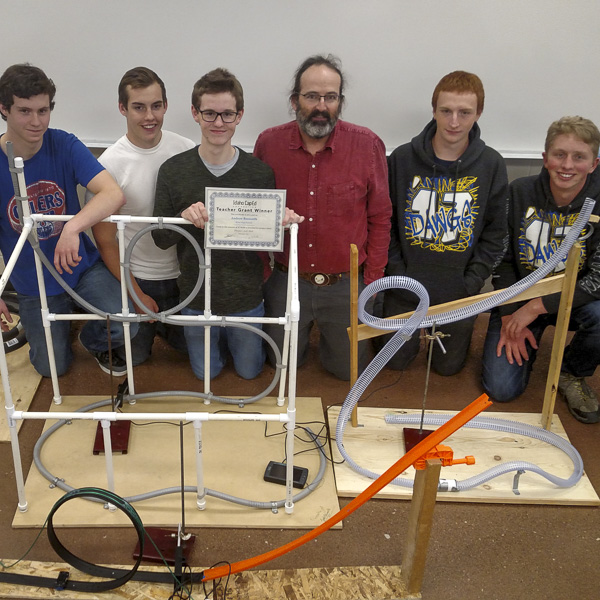 Physics - Let's Roll
Andrew Bosworth - Ririe High School
$750.00
To further our work in Physics we are asking for grant money to purchase Vernier equipment that will allow us to analyze motion. My students have been tasked to build miniature roller coasters (Engineering Design Cycle). As part of this project the students must measure and analyze the movement of their cars. We have established safety parameters based on real life roller coasters that must be met in their models. We have hit a wall with the equipment we have and are asking for your help. We want to test the motion of our cars and at the moment are using bowling balls and cell phones to approximate the actual measurements needed.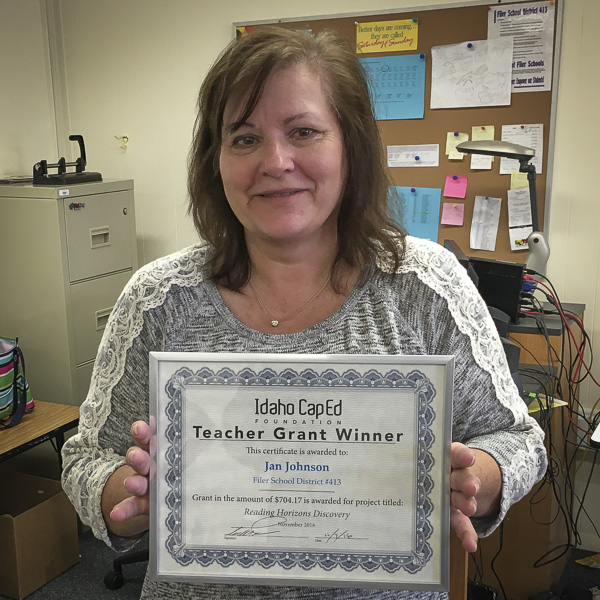 Reading Horizons Discovery
Jan Johnson - Filer Elementary School
$704.17
Because the core of Reading Horizons framework only requires students to remember seven rules that can be applied to the majority of the words in the English language, it is easy for students to remember. This, paired with the multi-sensory nature of the program, is the reason students grasp the program more readily than alternative programs. The number of decoding rules is significantly lower than even the closest competitive product--making it the most accessible to beginning readers and at-risk students.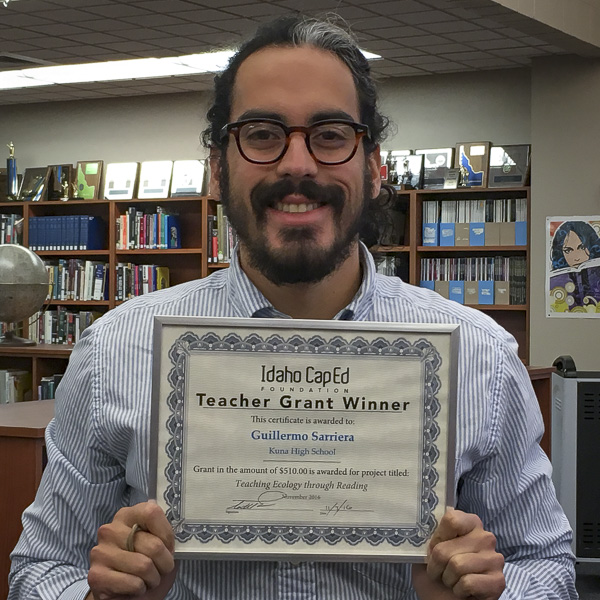 Teaching Ecology Through Reading
Guillermo Sarriera - Kuna High School
$510.00
The purpose of this project is to purchase copies of a journalistic book titled How Cows Can Save the Planet by Judith Schwartz. It is a book that approaches the overlapping environmental, economical and social problems that continue to develop with a growing population. In this book, topics such as biodiversity loss, wildfires increases, loss of nutrients in our soils, undergrazing and overgrazing by livestock. This book is particularly useful as all these issues are constantly debated at the state level and the local level here in Kuna where dairy is so important. This will allow students to make connections from the issues we discuss in class to the ones faced by farmers in their own town as well as farmers across the entire state.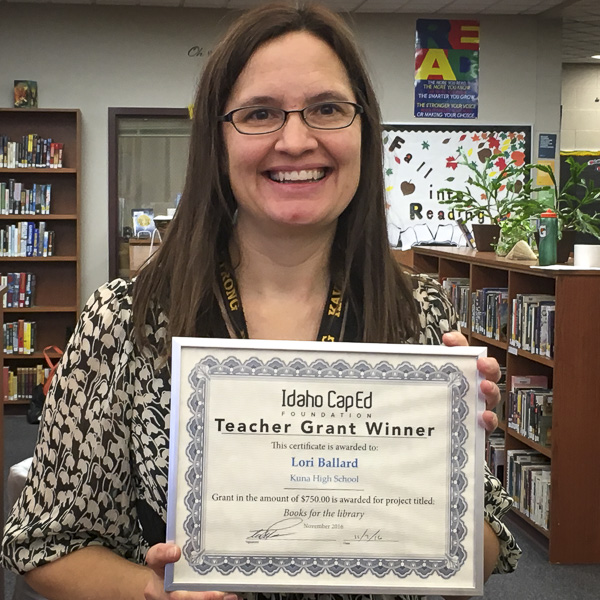 Books For The Library
Lori Ballard - Kuna High School
$750.00
My project is to update and expand the library collection at Kuna High School. A collection analysis I did last month revealed that the average publication years of the biography, non-fiction and fiction collections are 1979, 1988 and 1986 respectively. Funds for buying library books are limited to what I am able to collect in fines from students, so it can be very challenging trying to keep the collection current. A grant from CapEd would be extremely helpful in offering students new and relevant titles for check out. Providing students with up-to-date materials would result in attracting and engaging more students and lead to more learning. Thank you for your consideration.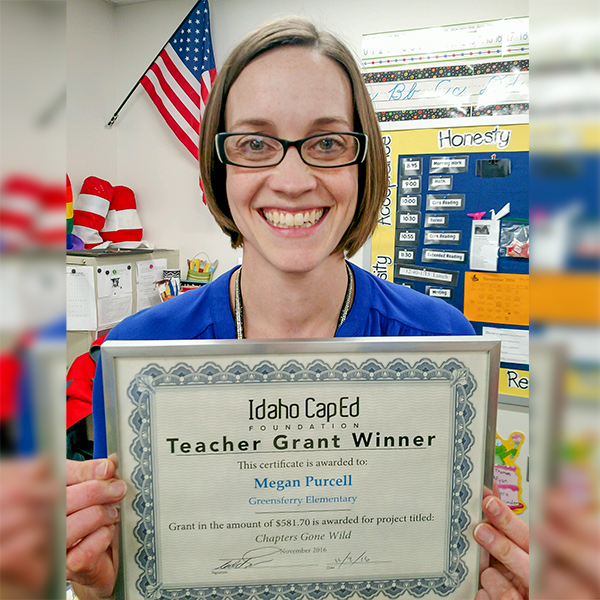 Chapters Gone Wild
Megan Purcell - Greensferry Elementary School
$581.70
Our third grade team has determined that in order to meet the needs of our students, we must secure sets of non-fiction text at third grade reading levels. With these chapter books, teachers will be able to integrate scientific and social studies concepts while teaching comprehension, vocabulary, text connections, and many other literary concepts. Our goal is to take student's cognitive achievement to a higher level by using in-depth instruction through these novels instead.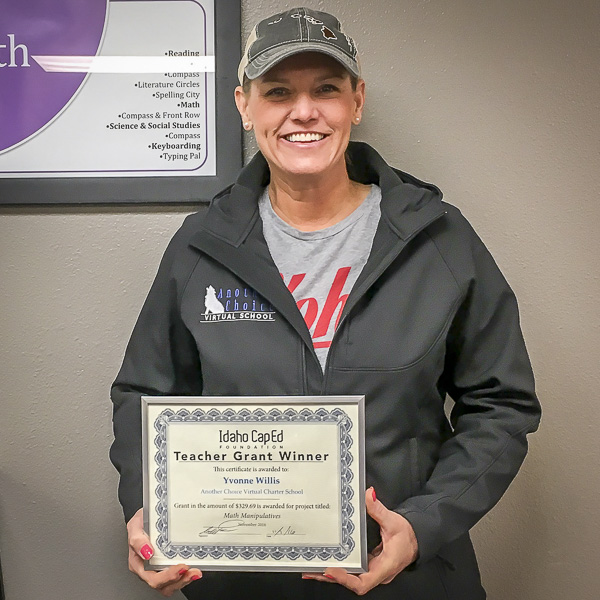 Math Manipulatives
Yvonne Willis - Another Choice Virtual Charter School
$329.69
The awesome thing about our online school is that we also have a lot of contact with our students in our lab. In mathematics, there is much research proving the importance of students working with manipulatives while learning various math concepts. Although our curriculum is online, we encourage our students to come into the lab and work with us. Being able to purchase manipulatives would help us enhance their learning outcomes. The NCTM (National Council of Teachers of Mathematics) recommends that we use them while teaching a variety of topics.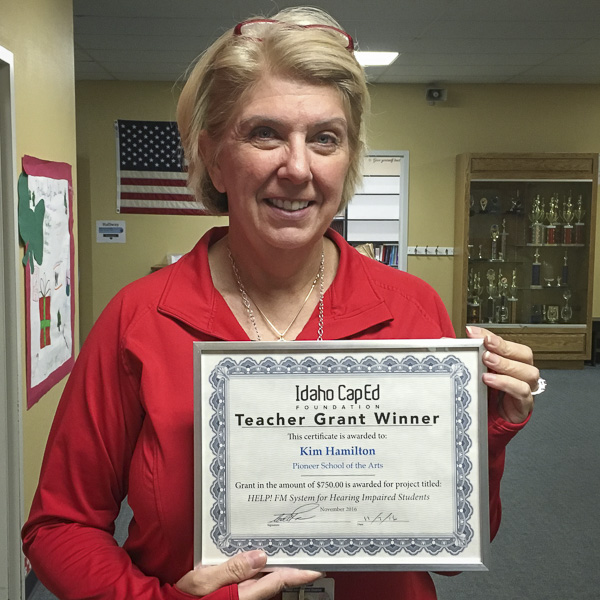 HELP! FM System for Hearing Impaired Students
Kim Hamilton - Pioneer School of the Arts
$750.00
Our current FM Sound System is currently being used in 1 classroom for 3 hearing impaired 3rd graders. The remaining students are in 1st grade and parents have taken care of them on their own. The 3 third graders have had to stay in the same class since K because of the lack of sound systems. The one we have currently works well. Another FM system would allow us to help diversify these students and they can be placed with the instructors who fit them the best.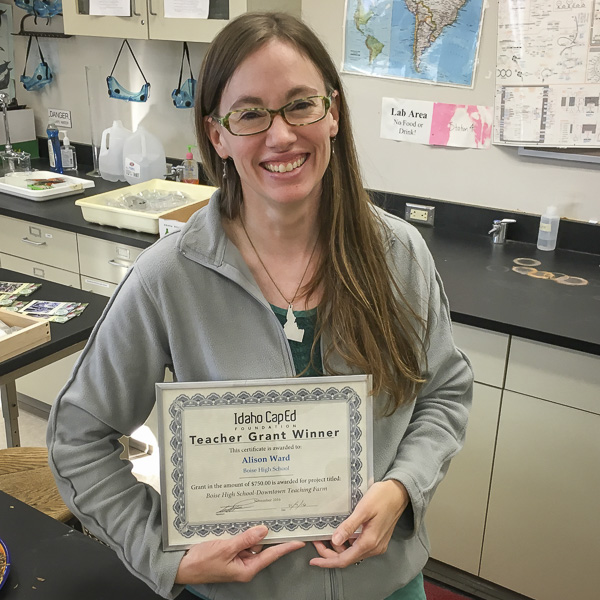 Boise High School - Downtown Teaching Farm
Alison Ward - Boise High School
$750.00
Our large urban high school has an incredible partnership with a neighboring church to help our students care and maintain a fairly large school farm (2/3 of an acre in edibles/pollinator gardens, 1/3 of an acre as a community orchard), better known as the Downtown Teaching Farm. This collaborative project is managed by our school's science department and approximately 1000 students per year participate directly in the projects and lessons at the Downtown Teaching Farm.