September 2016 Grant Recipients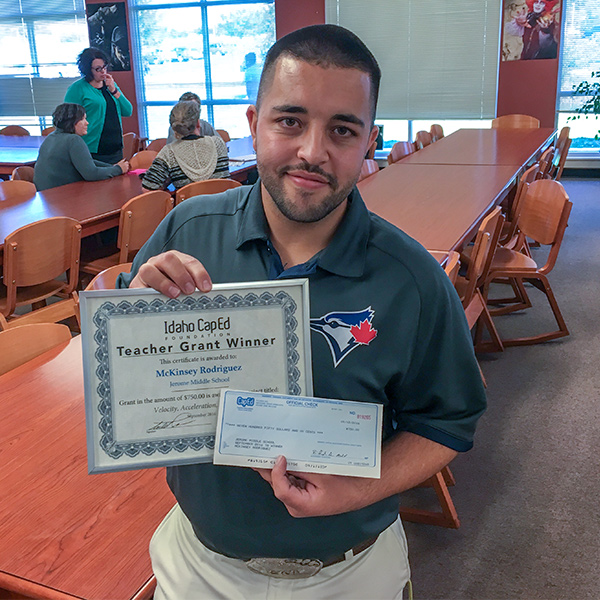 Velocity, Acceleration, and Speed
McKinsey Rodriguez - Jerome Middle School
$750.00
With this grant the physical science department will be able to purchase 3 complete photogate systems. Photogates measure the time it takes for an ­object to pass through. Students can choose from five timing modes: Interval, single- or double-photogate timing, for experiments on speed or acceleration, Frequency (for periodic motion), Period, Stopwatch, Count, etc. The students can then take this information and form data. Examples of data could include tables or graphs of position or velocity as a function of time for objects subject to a net unbalanced force, such as a falling object, an object rolling down a ramp, or a moving object being pulled by a constant force.
My request for this Teacher's Grant is to purchase 25 copies of McCloud's book, Growing Up with a Bucket Full of Happiness. This will supply all my students with one to one copies, allowing for creative book studies to take place. Too many times, I see students being bullied by others, put down by others, or simply ignored by others. I would love to see a change take place. I want students to truly see the consequences of their actions.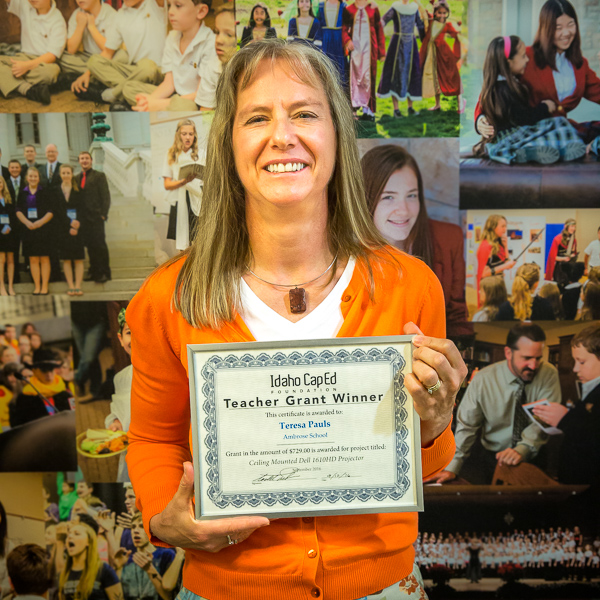 Ceiling Mounted Dell 1610HD Projector
Teresa Pauls - The Ambrose School
$729.00
First, projected Internet-based programs and resources will heighten my students' interest and expectations while captivating their attention and increasing motivation for learning. Access to the Internet and other computer-based programs expose students to math in a more visually pleasing manner, in addition to being another tool to help meet the needs of varying learning styles. Secondly, I will use the projector to show graphs, figures and equations. The ability to mark a math problem directly on the projected image on the whiteboard allows for a more effective way to explain characteristics and concepts.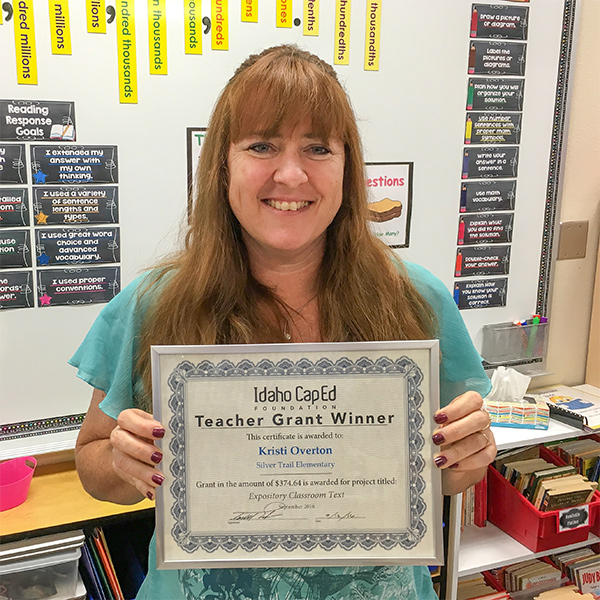 Expository Classroom Text (Connecting With Our World)
Kristi Overton - Silver Trail Elementary School
$374.64
The project is built around the distribution of "Time" magazine for students. This will be used across the grade level for fifth grade to make real world connections through meaningful expository text. It will be used to support Common Core standards and expose students to cross-curricular articles that build skills and knowledge in science and language arts. This project would help build content knowledge daily/weekly through the use of center based activities within the classroom.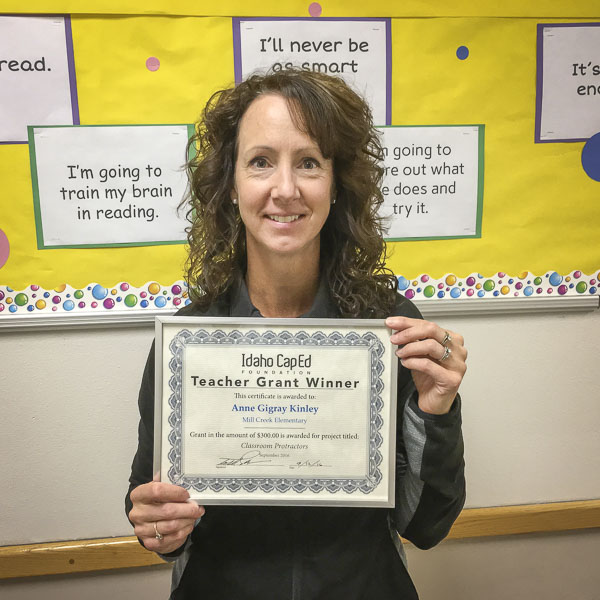 Classroom Protractors
Anne Gigray Kinley - Mill Creek Elementary School
$300.00
With the use of this particular protractors students are able to have a better understanding of angles, rays, line segments and what 360 degrees actually looks like. With the use of these protractors teachers can actually use art time to instruct all needed geometry standards. There are several different art lessons that teach skills and also create amazing works of art (parabolas etc.)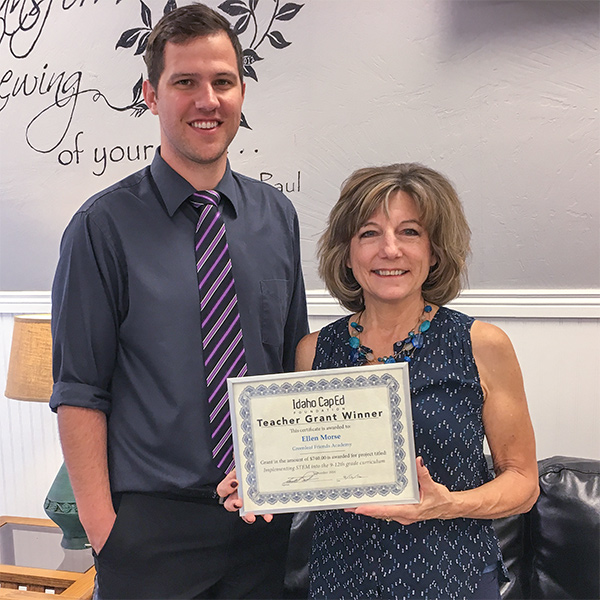 Implementing Stem Into The 9-12th Grade Curriculum
Ellen Morse - Greenleaf Friends Academy
$740.00
With the upgrade of a new Eye Wash Station/ Drench Hose/Shower Station the school high school science lab will have addressed safety issues in protecting the students, teacher and environment. The new lab aprons will address the much needed issue of worn and outdated aprons.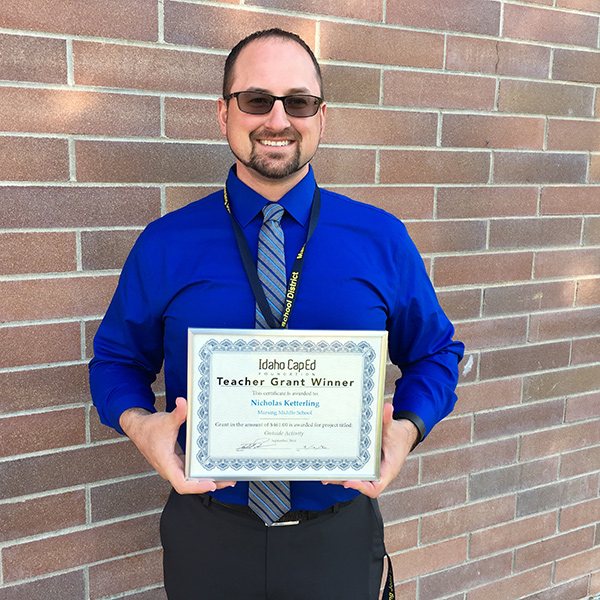 Outside Activity
Nicholas Ketterling - Marsing Middle School
$461.00
We are a small rural school with a significant low income population. Many of our students reside in the labor camps that are part of the community, and the safest place they have to come is the school. I am a firm believer in physical activity, and many of these kids do not have any kind of equipment that many of us take for granted. Such as basketballs, footballs, Frisbee,..etc. I would like to be able to get more of them involved in physical activity before school and during lunch.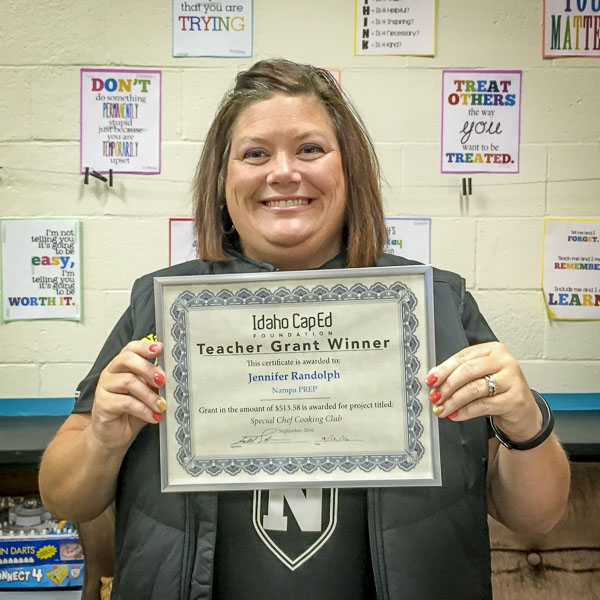 Special Chef Cooking Club
Jennifer Randolph - Nampa PREP
$513.58
Students in this program have special needs. They have been selected to participate because they are eager to learn vocational and life skills which may afford them the ability to be independent in the future.Teaching cooking to students with disabilities is an opportunity to not only increase healthy nutrition, but also put basic academic skills to use in a functional way. My students want to start the "Your Special Chef" Cooking club because they think cooking will give them the opportunity to work on reading skills, listening skills (e.g., one student can read the recipe and one can complete the steps), sequencing, nutrition, meal planning, math for measuring and adjusting recipes and how to use a variety of kitchen tools.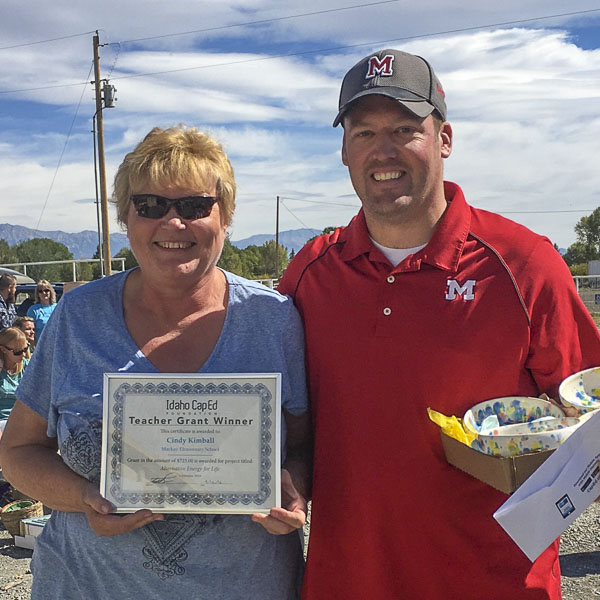 Alternative Energy For Life
Cindy Kimball - Mackay Elementary
$725.00
With this Alternative Energy for Life Curriculum provided by need.org, which I have attended and I am enthused about using in my classroom, Mackay 5th and 6th grade students will learn the science of energy before they can learn about the sources of energy, electric power production, and energy efficiency, and conservation. Students learn the forms of energy (heat, light, motion, sound, electricity) and how energy is transformed from one form into other forms.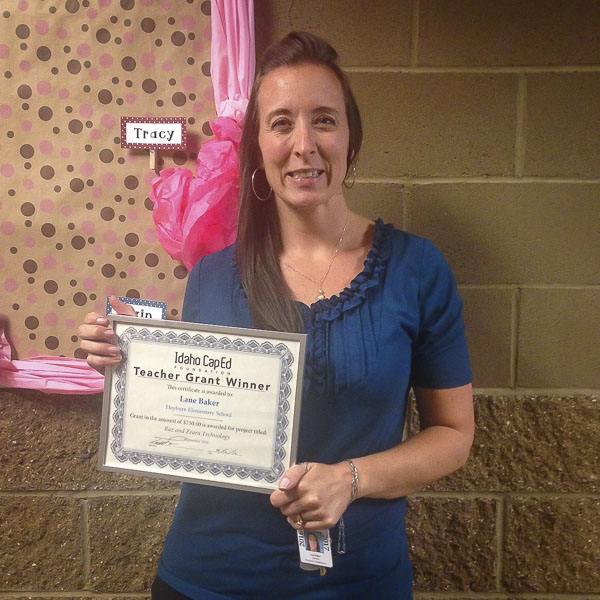 Raz and Zearn Technology
Lane Baker - Heyburn Elementary School
$750.00
I expect that with the addition of iPads and headphone/microphone sets, I will see an increase in IRI scores as well as a deeper understanding of math and more well rounded students. I also plan to help every student in my class get closer to the state standards in reading and become proficient in math through using the afore mentioned programs for both interventions and extensions to the regular curriculum.