September 2015 Grant Recipients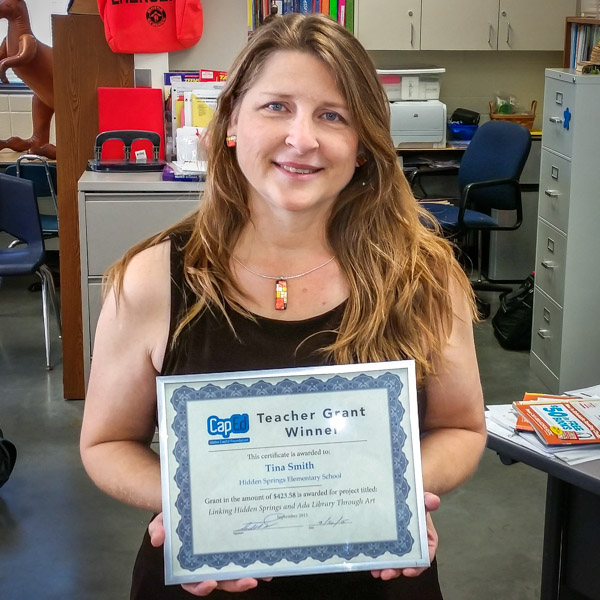 Linking Hidden Springs Elementary School and the Ada County Library through Art
Tina Smith - Hidden Springs Elementary School
$423.58
Not having its own in-school library, HSES is fortunate to be just three blocks from a branch of the Ada County Library. Most weeks, classes can be seen walking to and from the library for class projects. Recently the library moved to a brand new facility a short distance from its present location. We have received approval from the Branch Library Director to have exclusive use of their new exhibition space. Grant funds will be used primarily to buy picture frames for exhibiting student art work, linking Hidden Springs Elementary School and the Ada County Library through Art.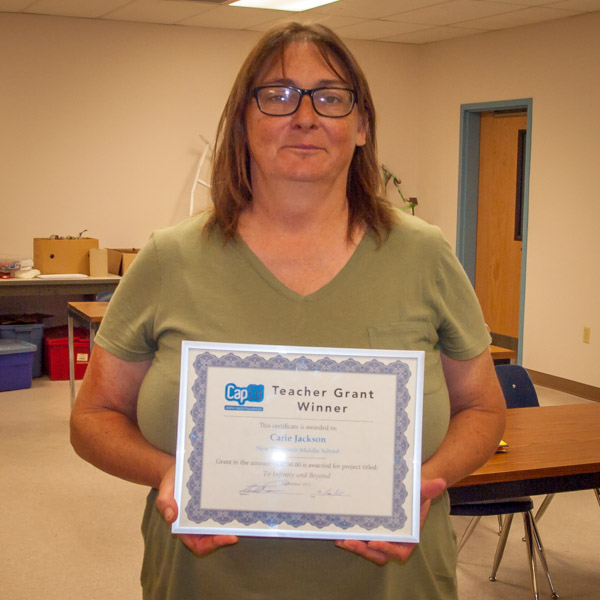 To Infinity and Beyond....
Carie Jackson - New Plymouth Middle School
$750
In this unit students will design, create, test, collect data and modify their rockets. Students will look at the structure and performance of real life rockets and apply that understanding to the design of a paper rocket. Their rocket will have a body, nose cone and fins. These rockets will be powered by air. Students will build and test a standard rocket. Students will then perform tests to determine which features are most effective for increasing the distance.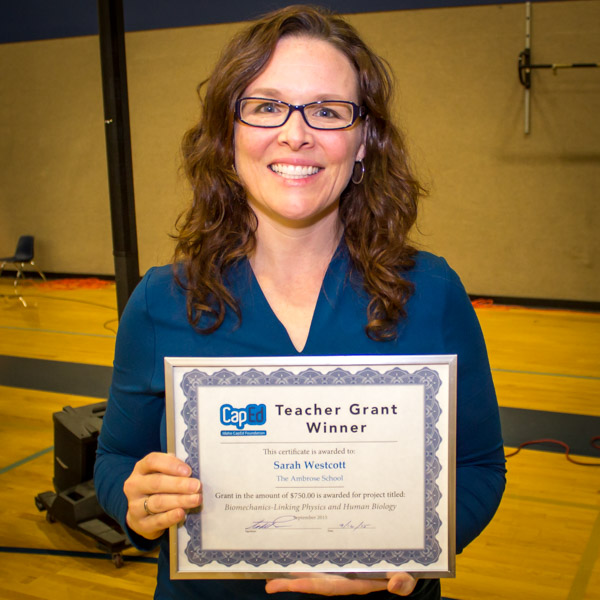 Biomechanics-Linking Physics and Human Biology
Sarah Westcott - The Ambrose School
$750
With the funds received from CapEd and supplemented by monies from the science department budget and parent donations, we intend to integrate our Physics and Human Biology classes with a laboratory exploration in Human Biomechanics. This special lab will give students working knowledge in the anatomy and physiology of the lower extremity as well as the physics concepts related to the human movement. Specifically investigated will be force generation in muscle, velocity and rotational motion. We intend to show these concepts through a force plate evaluation of the vertical jump. Our initial lab offering will be broadened to gait analysis once we acquire additional funds to purchase needed equipment.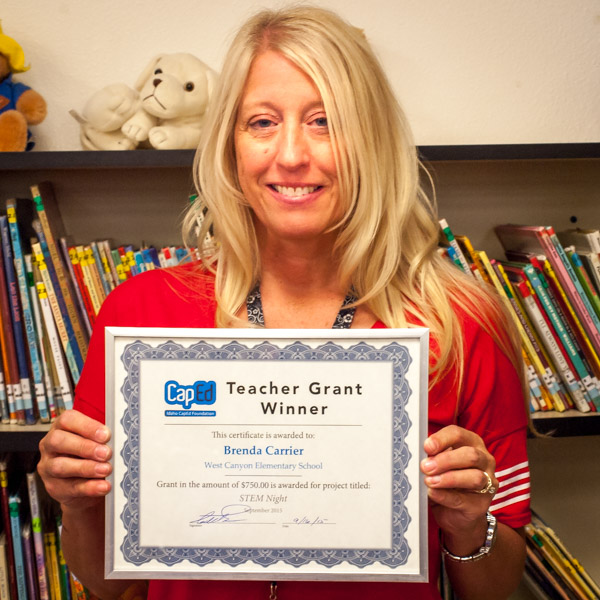 West Canyon Elementary STEM night
Brenda Carrier - West Canyon Elementary
$750
My action plan is to set up the mobile STEM lab bus from Discover Technology to deliver a program during the day of our annual Math night at my school. This year we will be doing a STEM Night. The teachers set up STEM activities for the students and their families to participate in and I will include the STEM bus as part of this event. Students will be involved in various aspects of Science, Technology, Engineering, and Mathematics activities on the night of the event.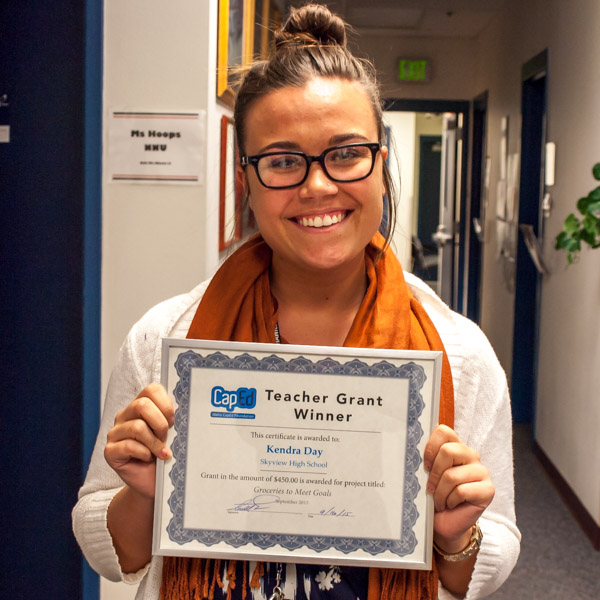 Groceries To Meet Goals
Kendra Day - Skyview High School
$750
My classroom is made up of a small group of students that all have moderate to severe disabilities. In the classroom we focus on the instruction, practice, and success in life, social, and work skills. Many goals for these students are geared toward becoming as independent as they can in and out of the classroom, as well as after the adventure of high school ends. With that, cooking is a major life skill that many of these students need practice and experience in, in order to be successful in everyday life. Our school has provided us with a fully functional kitchen that we can use whenever we want, as a whole class, or in small groups. We have the kitchen, but we don't have the food supplies to fill it.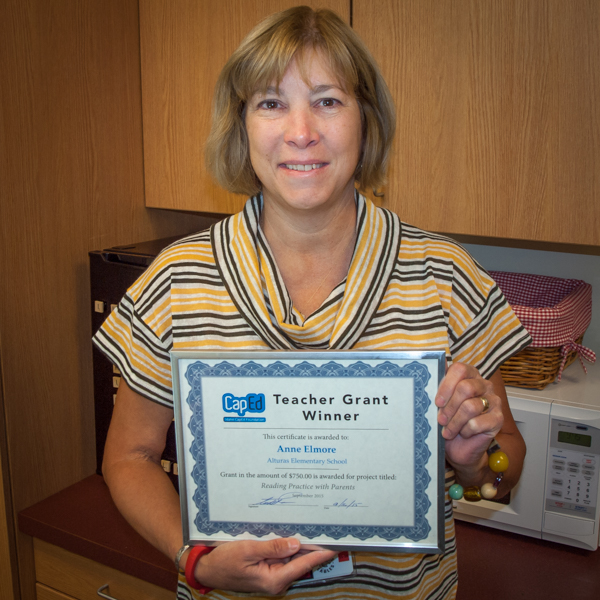 Reading Practice With Parents
Anne Elmore - Alturas Elementary School
$750
One of the most pressing needs of our students is for them to have access to books for reading practice on a nightly basis. This grant is asking for funds to purchase additional leveled books for the students to take home and read with their parents and return back to school the next day. We also use the backpacks for communication with parents about specific strengths or concerns and they can return the note with questions that they might have, as well.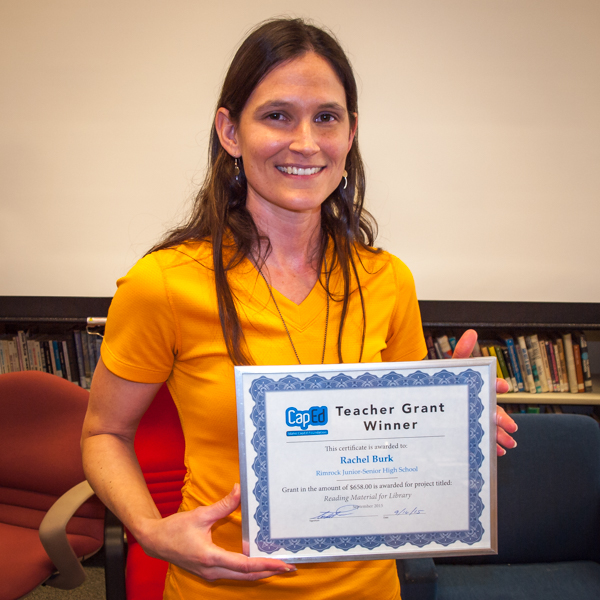 Reading Material For Library
Rachel Burk - Rimrock Junior-Senior High School
$658
Due to budget cuts in recent years, there hasn't been a librarian available to the students. Due only to the passing of a levy, I have the opportunity to serve as librarian on this campus. The most pressing matter is getting new material in here for these students. A new book hasn't been purchased for this library since 2009. I wish to offer our students new novels from current reading lists, and several book series in fiction from authors that have been suggested to me by the students.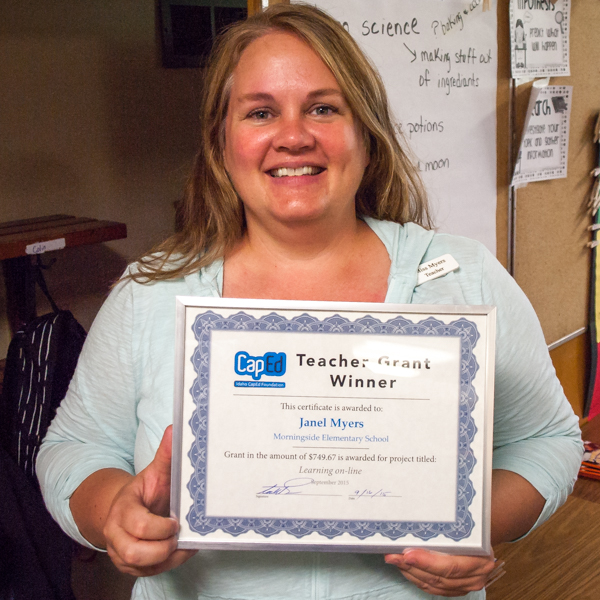 Learning On-line
Janel Myers - Morningside Elementary School
$750
Technology is the future filed of employment in America and it is imperative we start our young students thinking like creative scientist and mathematicians. Secondly, our school, Morningside Elementary, is encouraging our students in the field of STEMS through a Robotic Club. This year Morningside registered as a First Lego League Robotics Team. To further advance, engage, and prepare our second graders for future programming, coding, and building is to work with Ozobots and Lego WeDo Kits. Each of our six 2nd grade classes will have access to all engineering and coding tools at one time so the entire class is engrossed in STEM activities.